Never forget: Auschwitz sprinklers slammed for 'insensitivity'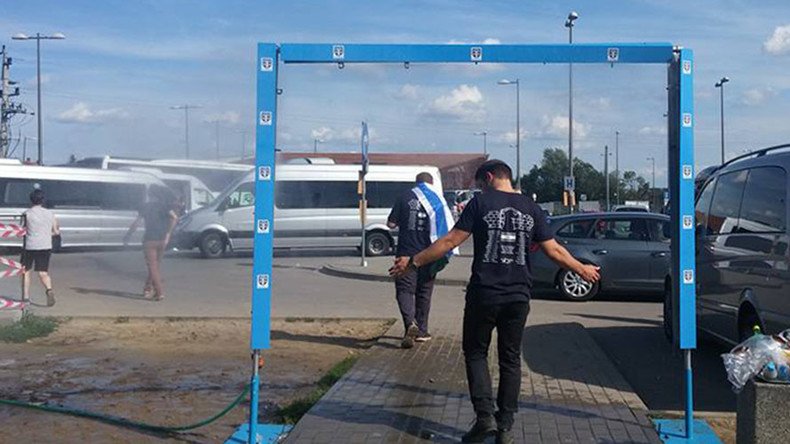 A device designed to cool off visitors to the Auschwitz-Birkenau concentration camp site in Poland has been criticized for its "insensitive" similarity to Nazi gas chambers - for the second summer in a row.
The misting spray was set up in a municipal car park near the somber tourist attraction and caught the attention of an Israeli rabbi from the illegal settlement of Gush Etzion, who posted photos of the rig on Facebook and expressed his shock.
"I don't know about you, but I don't feel comfortable going into a shower at the entrance to an extermination camp," Rafi Ostroff wrote on Facebook. "They apparently had good intentions in the face of the extreme heat, but what about a little sensitivity."
Apparently, those who installed the shower forgot about last year's controversy when the museum installed similarly "insensitive" sprinklers outside the museum.
@TimesofIsrael These were not installed by the Museum and they were not installed at the Museum.

— Auschwitz Memorial (@AuschwitzMuseum) August 6, 2016
In 2015, site officials denied the comparisons to gas chambers, insisting the summer heat in Poland was difficult for some tourists coming from colder climates.
READ MORE: Mist showers at Auschwitz? Museum defends step as Jewish visitors take offense (VIDEO)
More than six million Jews were killed by Nazis during the Holocaust. In Auschwitz alone, at least 1.1 million Jews were exterminated at the death camp.
Other victims of the Nazis included Czechs, Greeks, Roma and Sinti gypsies, homosexuals, Jehovah's Witnesses, those with mental and physical disabilities, Poles, resistance fighters, Russians, Serbs, communists, socialists, Spanish Republicans, trade unionists, Ukrainians, and Yugoslavians.
You can share this story on social media: