Mist showers at Auschwitz? Museum defends step as Jewish visitors take offense (VIDEO)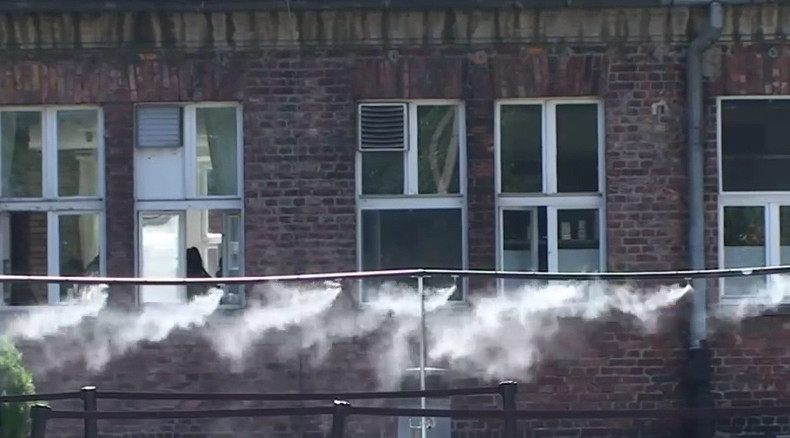 Auschwitz-Birkenau State Museum has defended its use of sprinkler showers at its entrance, after a visitor complained that the mist machines were reminiscent of the gas chambers used to murder prisoners at the concentration camp during World War II.
Israeli Jewish visitor Meir Bulka was shocked when he spotted the mist-spraying machines at the death camp.
"As a Jew who has lost so many relatives in the Holocaust, they looked like the showers that the Jews were forced to take before entering the gas chambers," the 48-year-old told the Jerusalem Post.
He added that he wasn't the only Israeli left disturbed by the presence of the mist machines.
"All the Israelis felt this was very distasteful," he said. "Someone called it a 'Holocaust gimmick.'"
He then went to the main office, asking management for an explanation.
"The management decided that it was a good way to cool people off on a very hot day," Bulka said. "They said they were sorry if I was offended, and I told them that there is no way to apologize to the victims of the Holocaust."
Colette Avital, the chairwoman of the Center of Organizations of Holocaust Survivors in Israel, said the showers were a sign of carelessness.
"We would expect people who deal with the Holocaust, especially in a place like Auschwitz, to think before they act and to be more sensitive," she said.
But not everyone has taken offense to the showers. In fact, the local Jewish community and Holocaust victims' advocates suggested the situation has been blown out of proportion, though they said they understood the negative reaction.
"Temperatures reached 40 degrees C and the administration wanted to ensure the safety of their visitors," Chief Rabbi Michael Schudrich said. He did, however, state that a "more sensitive construction and location could have been found."
Piotr Kadlcik, the immediate past president of the Union of Jewish Religious Communities in Poland, agreed with the rabbi, saying "the Germans twisted the concept of shower – a source of cleanness and relief – into the equivalent of pure horror. We shall not follow this path."
Museum spokesman Pawel Sawicki said the sprinklers were installed because of Poland's current heat wave, saying they are located in an area "in the open sun and without any possibility of hiding in the shade."
"We must do everything possible to minimize the risks connected with the heat and high temperatures and take care of the safety of health of our visitors," he added, saying the sprinklers would be removed when the temperature drops.
Some 1.1 million people, mostly Jews, were killed at Auschwitz between 1940 and 1945, before it was liberated by Soviet troops.