Brazil opts for wall to keep pro- & anti-Rousseff protests apart (VIDEO)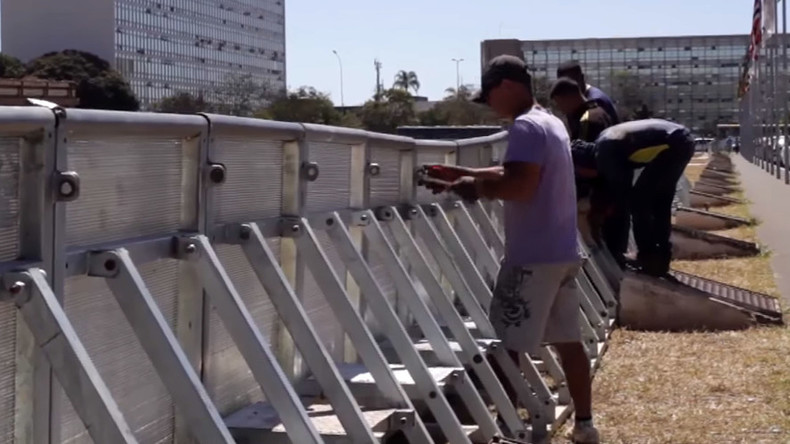 The capital of Brazil has put up a wall in front of the National Congress to prevent pro and anti-Rousseff protesters from clashing. Both rallies are scheduled in Brasilia on Tuesday – the day the Senate votes on Rousseff's impeachment trial.
City workers were seen putting up a fence about a meter in height in order to keep violence to a minimum on Tuesday, when divergent camps are to hit the streets to show support for or opposition to suspended Brazilian President Dilma Rousseff.
On Monday, a Ruptly video showed trucks transporting parts of the fence to the site and workers putting it up. The wall looked to be a few kilometers in length at the time of filming.
The Brazilian Senate will vote on Tuesday on whether suspended President Dilma Rousseff should face an impeachment trial.
A majority of at least 41 of 81 Senators needs to vote in favor of the trial for it to actually begin, which would probably take place in late August or early September. If there are not enough votes, Rousseff could resume her presidency.
Authorities expect thousands of pro- and anti-impeachment supporters to pour into the streets of the country's capital.
The vote comes after a Special Committee of Impeachment approved a report from Senator Antonio Anastasia against Rousseff last week which recommended that the suspended president be put on trial.
Rousseff's opponents say that her fate is already sealed.
"The president is ever more isolated, a very pronounced isolation that has only gotten worse in recent weeks and now even includes her own party," Senator Aloysio Nunes of the opposition party PSDB told AFP. "I have no doubt that the vote will be in favor of impeachment, as it will be at the final trial."
Rousseff has been embroiled in a colossal spending scandal and is facing changes charges of breaking the budget law.
Rousseff, however, denies all of the allegations against her and has repeatedly called the impeachment a "farce." According to the suspended Brazilian president, her alleged crimes amount to no more than "routine acts of budgetary management."
Rousseff even decided not to attend the Opening Ceremony of the Rio Olympic Games, writing on Twitter that she was "sad not to be at the party 'live and in colour' but I will be following it, rooting for Brazil."
In the meantime, Acting President Michel Temer is facing allegations of his own, having been recently linked to a $3.2 million illegal campaign donation by the Veja magazine. Temer's administration had already suffered the blow when three cabinet members resigned due to a corruption probe known as Car Wash.
READ MORE: 'Brazil's exasperation with government corruption threatens to overshadow Rio Olympics'
Brazil has seen a wave of both pro- and anti-Rousseff protests, with some of the former accusing Temer of orchestrating Rousseff's downfall to stifle a corruption probe into Petrobras, the state-owned oil company.