US offers Argentina declassified docs on own role in military dictatorship in 1970s-80s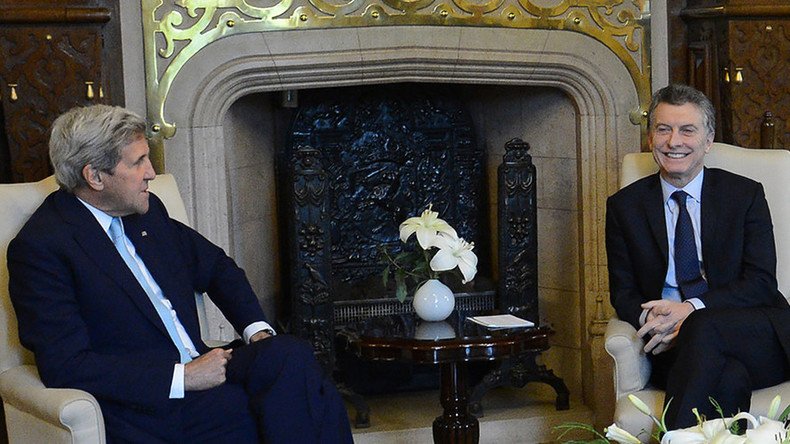 America's role in Argentina's military dictatorship in 1976-1983 could be revealed in declassified papers the US secretary of state promised to hand over to Buenos Aires. Tens of thousands of leftist activists were killed under the regime.
John Kerry, who was on a visit to Buenos Aires on Thursday, said he was delivering the first batch of US documents related to the Argentinian coup of 1976 and the military dictatorship (junta) that followed.
"Last March, in response to a request from President Macri and human rights groups, President Obama promised to identify and share additional US government records, many from intelligence and law enforcement agencies," Kerry said while meeting with Argentine President Mauricio Macri at the Casa Rosada presidential palace, according to Reuters.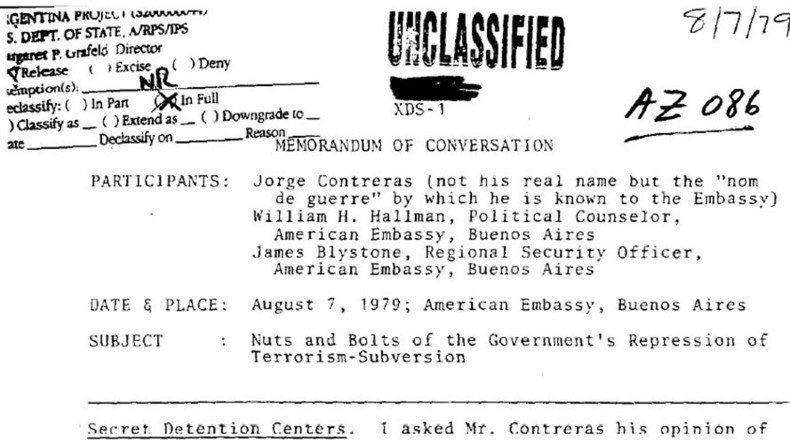 Kerry said he brought with him "the first tranche of those declassified documents" and added that more was "to come in the future."
President Barack Obama's visit to Argentina in March was perceived by many of the local population as provocative, as it coincided with the 40th anniversary of the military coup, which ended with a seven-year of reign of terror in the country and was initially supported by the US.
Although Obama acknowledged that his country was too slow to condemn atrocities committed by the junta in Argentina, and despite dropping flowers into the La Plata River beside the Monument to Victims of State Terrorism to commemorate the dead, survivors of the purge condemned Obama's visit, accusing Washington for instigating power seizures in Latin America.
"When you analyze the situation in depth, the United States was responsible for the coups in Latin America," Argentine 1980 Nobel Prize winner and human rights activist Adolfo Perez Esquivel told Associated Press in March ahead of Obama's visit to his country.
The reign of the military in Argentina in 1976-1983 was marked with unprecedented repressions and atrocities and was dubbed the 'Dirty War' (Guerra Sucia en la Argentina) by Argentines.
Human rights campaigners put the number of victims of leftist activists and members of their families committed in seven years of dictatorship at an estimated 30,000 victims. Argentina's main memorial, which Obama visited, contains 'only' 20,000 names, mainly because the bodies of many victims have never been found. Military executioners were, according to survivors, getting rid of people in many horrible ways, including infamously throwing live victims wearing 'concrete shoes' out of aircraft over the Atlantic Ocean and La Plata River.
Macri, representing the nation's conservatives and business circles, entered office last year, after winning presidential elections against a candidate backed by largely-socialist outgoing President Cristina Fernandez de Kirchner.
One of the points of Macri's agenda was normalizing relations with Washington, overshadowed by scandals around the restructuring of Buenos Aires's debt to primary US-based creditors.
"I want to note that the relationship between the United States and Argentina is an exciting, forward-looking one. But we're also conscious of the lessons from the past," Kerry told reporters during his visit to Buenos Aires this week.
You can share this story on social media: