Nobel Prize winner tells Obama to stay away from Argentina on US-backed coup anniversary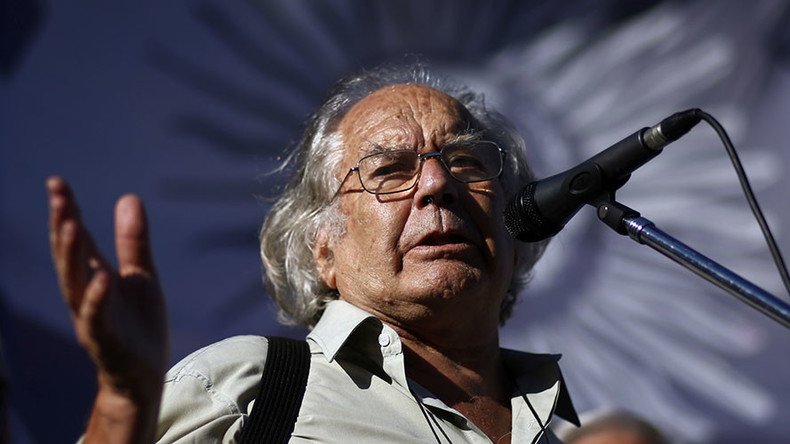 A former Argentine Nobel Prize winner says US President Barack Obama should skip or at least delay his intended visit to the country on March 24 because it coincides with the 40th anniversary of a coup that installed a Washington-backed military government.
Adolfo Perez Esquivel says he is happy that the US president would like to visit Argentina, only he believes that Obama should travel to the country at a later date due to the sensitivity of the anniversary.
"I'm a survivor of that era, of the flights of death, of the torture, of the prisons, of the exiles," Esquivel told AP. "And when you analyze the situation in depth, the United States was responsible for the coups in Latin America."
Esquivel won the Nobel Prize in 1980 for defending human rights under Argentina's dictatorship, which spanned from 1976 until 1983. On March 24, 1976, a military coup toppled Isabel Peron's government. Human rights groups estimate that around 30,000 people were killed or simply disappeared under the military government.
READ MORE: Obama set for historic Cuba visit as 'well expired' US policy shifts
The current Argentine President Mauricio Macri is trying to improve relations with the US, which were frosty under his predecessor Cristina Fernandez de Kirchner. He says he has met with human rights groups to try and placate the situation. However, the rights groups are less than impressed.
Obama "is the false face of the Nobel Prize and we believe there are many things he should pay for," Hebe de Bonafini, president of iconic human rights group Mothers of Plaza the Mayo, told AP. "We don't want him here."
The US president plans to visit Argentina on March 23, after making a historic trip to Cuba. The US Ambassador to Argentina Noah Clarin said that Obama would not be able to change his plans and would have to come on the planned dates.
Obama, like Esquivel, is also a Nobel Prize winner, having won the award in 2009. In fact Esquivel was one of twelve previous winners of the Nobel Peace Prize to urge fellow laureate Obama to release a CIA torture report.
The laureates wrote in October, 2014 in an open letter that called for "full disclosure to the American people of the extent and use of torture and rendition by American soldiers, operatives, and contractors, as well as the authorization of torture and rendition by American officials."
The letter called on Obama, who won the accolade after spending less than a year in the White House, to follow principles of international law outlined in the UN Convention Against Torture and the Geneva Conventions.
You can share this story on social media: