'Liars and hypocrites': Obama expresses regret for US policies during Argentina's 'Dirty War'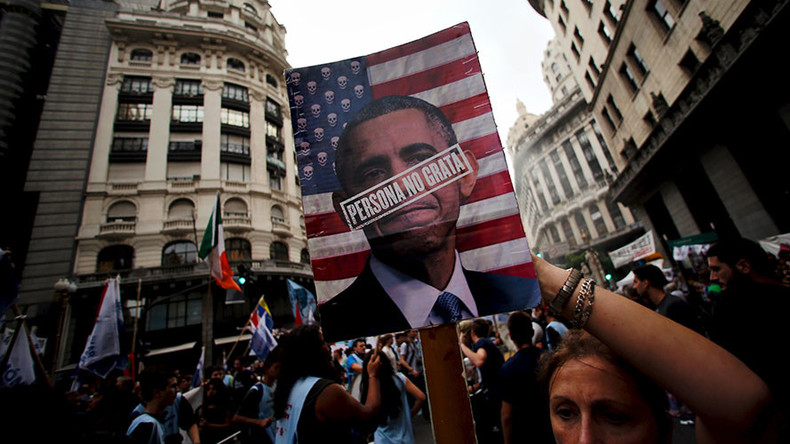 On the 40th anniversary of Argentina's coup, President Barack Obama said that the US was slow in speaking out during the "Dirty War," which killed some 30,000 people and involved the military kidnappings of 500 babies, according to human rights groups.
"We've been slow to speak out for human rights and that was the case here," Obama said at the Parque de la Memoria, a monument to the war's victims, where he attended a ceremony marking the 40th anniversary of a 1976 military coup that began the Argentine dictatorship, according to AP.
Obama's regret fell short of apologizing for Washington's early support and funding of the military junta under the rule of dictator Jorge Rafael Videla that led to a seven-year crackdown on left-wing opponents, Marxist rebels and labor unions, which saw security forces kill some 30,000 people.
"There's been controversy about the policies of the United States early in those dark days," Obama said. "Democracies have to have the courage to acknowledge when we don't live up to the ideals that we stand for. And we've been slow to speak out for human rights and that was the case here."
That controversy involved economic and military training as well as the sale of $150 millions worth of military equipment to Videla that Congress approved during the Ford and Carter administrations. The Department of Defense was granted a total of $1 million between 1976 and 1978 to train Argentine military personnel.
Prominent human rights groups shunned an invitation to attend Thursday's ceremony, arguing that the presence of a US president on such an important date was disrespectful to the thousands who died, AP reported.
Nora Cortinas of the iconic Mothers of the Plaza de Mayo group called Obama "a representative of death."
"What would victims say if they saw [us] hugging and paying homage to a president from a country responsible for state terrorism?" she told a local radio station hours before the event.
Ronald Reagan was an early supporter of the coup before becoming president, using his platform as a newspaper and radio commentator at the time to downplay the human rights crimes underway in Argentina, according to Consortium News.
Government investigations revealed that Argentine military intelligence officers advanced torture by testing the limits of pain a human being could endure before dying. The torture methods included experiments with electric shocks, drowning, asphyxiation, and sexual perversions.
Consortium News said that some of the implicated military officers had trained at the US-run School of the Americas. Other methods used were taking suspected subversives, stripped naked, on death flights and pushing them out of the planes over the Atlantic Ocean.
Another horrifying method was harvesting infants from pregnant women who were kept alive in military prisons only long enough to give birth. The infants were given to military families or sent to orphanages. Estimates are that 500 babies were kidnapped in the scheme, according to the Mothers of the Plaza de Mayo.
Thousands of US State Department documents related to the United State' relationship with Argentina were declassified in 2002. Among them was a series of notes from a late 1976 meeting between Secretary of State Henry Kissinger and Argentina's foreign minister.
"If there are things that have to be done, you should do them quickly," Kissinger said, according to a transcript, implying his support for clamping down on dissidents.
The Obama administration announced last week that a new declassification, which will be released after he leaves office, will include military and intelligence papers for the first time.
Obama and his family left Buenos Aries on Thursday to visit Bariloche, a picturesque city in the foothills of the Andes, before returning to Washington. Hundreds of protesters greeted him. The city is famous for its chocolates, Swiss-style architecture – and Nazis.
The town is believed to have served as a soft-haven for Nazis on the run after World War II. Several top former Nazis, including Dr. Josef Mengele, who conducted medical experiments at Auschwitz death camp, are believed to have hidden out there for decades.
Following up a lead in 1994, Sam Donaldson from ABC News interviewed Reinhard Kops, who helped Nazi fugitives get to Argentina after the war. Kops admitted to Donaldson that he had, but told him that Erich Priebke was the one he should be speaking with, as he was a former SS captain who had massacred 330 civilians near Rome in 1944, according to The Los Angeles Times. Priebke was eventually extradited to Italy, convicted of the massacre, and sentenced to prison.