Do not import conflict – German politicians ahead of massive pro- and anti-Erdogan demos in Cologne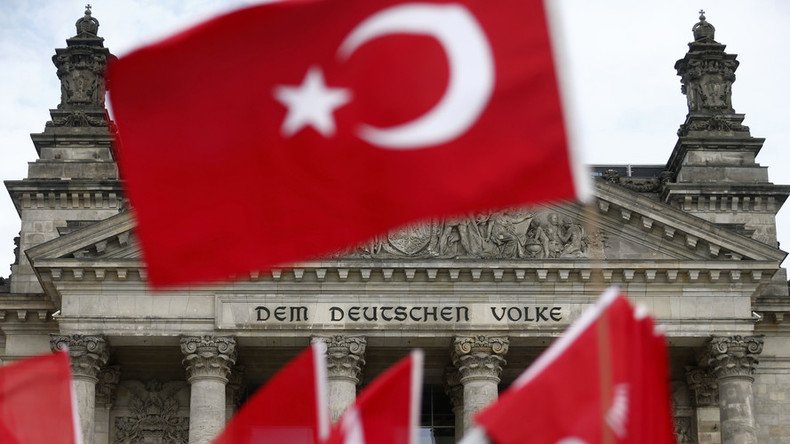 German politicians have urged people to show restraint and refrain from bringing Turkey's internal tensions to Germany as the city of Cologne is bracing for a number of massive rallies both in support of and against Turkish President Recep Tayyip Erdogan.
"It is unacceptable that anyone would bring internal political tensions from Turkey to Germany and intimidate people with other political beliefs," German Foreign Minister Frank-Walter Steinmeier told the German daily Suddeutsche Zeitung ahead of a massive rally of Turkish President Erdogan's supporters and a number of counter-demonstrations that are scheduled to take place in Cologne on Sunday.
His words were echoed by Hanneloer Kraft, the Prime Minister of the German state of North Rhine-Westphalia, where the city of Cologne is located. "Do not import a domestic political conflict to the region where you have chosen to live," she told German media, calling on protesters to show calm and restraint.
In the meantime, German Vice-Chancellor and the leader of the Social Democrats, Sigmar Gabriel, has called on all people to prevent the situation in Turkey from provoking a social split in German society.
"Even fundamental disagreements should not lead to a split in our society. Germany should be a homeland for every person that lives here," he said in a Facebook statement written both in German and Turkish that called on people "to treat those who have different opinions with respect."
Police said at a press conference on Friday that as many as 30,000 people are expected to take to the streets of Cologne on Sunday to show support for Turkey's president in the wake of a foiled coup attempt on July 15, or to display discontent with his policies.
Most of the demonstrators are likely to be Erdogan supporters, as the organizers of the pro-Erdogan rally, the Union of European-Turkish Democrats (UETD), expect about 20,000 people to join in their demonstration, German media report. The rally is also expected to be attended by some Turkish officials and even members of the "Grey Wolves," a Turkish nationalist organization, according to Die Zeit daily.
In the meantime, at least five counter-rallies have also been announced, four of which have been organized by the youth wings of German political parties: the Greens, the Social Democrats, the Left party, and the Free Democrats.
The counter-demonstrations organized by the political youth movements are being held under the common slogan "Stop the Erdomania!" and, while the organizers condemned the failed coup attempt in a joint statement posted in Facebook, they stressed that "such a coup attempt should not be used to replace democracy and the rule of law with the authoritarianism of the President Erdogan."
One more counter-demonstration staged by the regional far-right party ProNRW and the HoGeSa (Hooligans against Salafists) group will be held under the motto "No tributes to Erdogan in Germany: Stop the Islamist autocrat from the Bosporus." Police tried to ban the far-right rally, but the regional administrative court rejected its request.
In the meantime, police plan to deploy 2,300 officers and six water cannons at the scene in preparation for possible outbreaks of violence on Sunday. Some members of the police contingent will be Turkish speakers.
Police have still not ruled out the possibility of banning the pro-Erdogan rally. "We are expecting an atmosphere which is highly emotionally charged," Cologne Police Chief Jürgen Mathies said, as quoted by Deutsche Welle.
"We will constantly assess the situation. Should we come to the conclusion that public safety cannot be ensured, I will cancel the demonstration, even at short notice," he added, stressing that police could intervene "quickly, decisively and forcefully" if necessary.
'Turkish domestic politics have no right to be on German soil'
Meanwhile, the very idea of holding a rally in support of or against a foreign leader has provoked outrage among some German citizens and politicians.
"Turkish domestic politics have no right to be on German soil," Andreas Scheuer, the secretary general of the Bavarian Christian Social Union (CSU), told Der Spiegel, adding that "those, who want to want to get involved in Turkish domestic politics are welcome to leave our country and go back to Turkey."
At the same time, Scheuer stressed that freedom of expression and freedom of association are "a greater good," but do not mean that Turkey's internal conflicts and violence can be imported into Germany.
Similar sentiments were voiced by many residents of Cologne, who reportedly showered the local Koelner Stadt Anzeiger newspaper with letters voicing fears and outrage over the upcoming rally in support of Erdogan, Deutsche Welle reports.
"We can't have people spreading propaganda for foreign rulers in Germany," some people wrote, while others urged local authorities to "stop this lunacy," stressing that "a demonstration for dictator Erdogan" should not be allowed to go ahead.
In the meantime, the atmosphere in Germany has been tense since the failed coup attempt in Turkey. According the Suddeutsche Zeitung, schools, shelters, and other facilities deemed to have links with the movement of US-based Turkish preacher Fethullah Gulen have been attacked in many German states.
Alleged Gulen supporters in Germany have also been subjected to intimidation and even death threats on social media. Some groups have posted "boycott lists" on the internet that include the names of restaurants and shops allegedly belonging to Gulen supporters.
"The sentiments are very, very aggressive," Gokay Safuoglu, the head of one of Germany's Turkish associations, told Suddeutsche Zeitung.
In the meantime, the purges in Turkey continue. More than 18,000 people have been detained since the foiled coup attempt on July 15, Turkish Interior Minister Efkana Ala announced recently, while over 45,000 members of the army, judiciary, police, and media, as well as civil servants, have been sacked.
You can share this story on social media: