Vanished guns: Firearms stolen from elite US Army base in Germany
US officials have revealed that a collection of weapons was stolen from the Panzer Kaserne base near Stuttgart earlier this month and couldn't be located, leading to concerns that the arms may have ended up on the black market – or in the wrong hands.
READ MORE: Reports of armed woman in job agency trigger special forces operation in Cologne
"Several semi-automatic pistols, one small-caliber automatic rifle and a shotgun were among the items taken," said Chris Grey, a spokesman for the US Army Criminal Investigation Command (CID).

"Due to the ongoing investigation, we will not be releasing any additional information or any specifics on the items stolen at this time to protect the integrity of the investigative process," said Ray Johnson, a spokesman for the Army's Installation Management Command-Europe.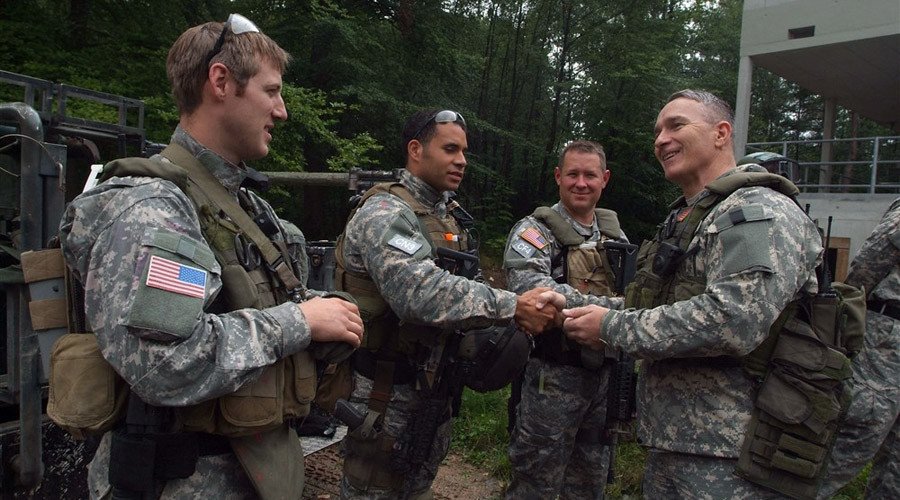 The Cold War-era facility serves as a local garrison headquarters and an operational base for elite units, including the Green Berets and Navy SEALS.
"We are looking at all possibilities as the investigation continues, but at this point in the investigation it does not appear that an outside entity stole the firearms and equipment or breached the fence line, but we have not completely ruled it out," Grey said.

The CID has put up a $10,000 reward for any leads.
READ MORE: US-trained Syrian rebels 'gave 6 trucks, ammo' to Al-Qaeda affiliate – CENTCOM
Such cases are routinely dealt with internally, but considering it has been weeks since the theft with no resolution, the US Army has had to go public.
"German authorities were notified and are working with the Army on the investigation," said Johnson.
The timing of the disappearance is particularly inopportune.

On July 19, a refugee pledging allegiance to Islamic State (IS, formerly ISIS/ISIL) attacked tourists on a train, and a German-Iranian teenager went on a shooting spree in Munich on July 22. The next day, a Syrian refugee blew himself up at a music festival.
READ MORE: Terrorized state: The week of attacks that shocked Germany (PHOTOS)
"I wouldn't overplay it – it was only a few weapons, and no indications it was an outside source," Peter Schulze, Professor of International Relations at the University of Gottingen, told RT. "Of course this will not contribute to a more relaxed atmosphere among the German people, as it adds fire to the existing angst about their use in a potential terrorist attack."
You can share this story on social media: