ISIS posts new clip of alleged priest killer threatening Hollande with more attacks on France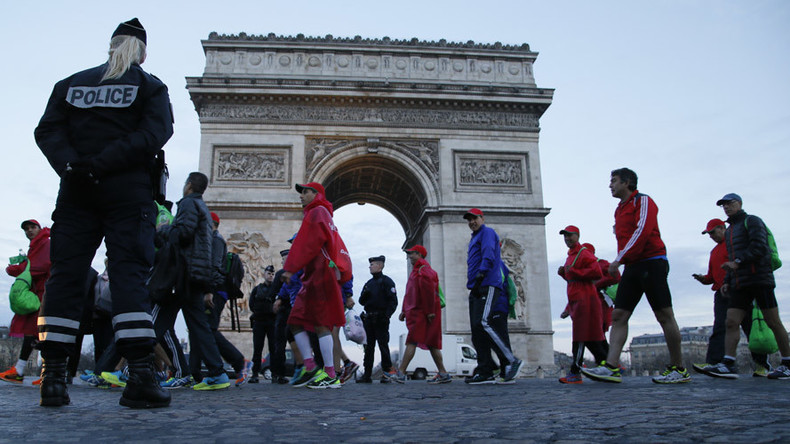 A new pre-recorded video showing one of the killers of a Normandy priest was released by Islamic State. As the terror group attempts to use the atrocity to attract volunteers for more attacks, questions are being raised on how to prevent them.
In the video, the recently identified attacker Abdel-Malik Nabir Petitjean is threatening President Francois Hollande and Prime Minister Manuel Valls, as well as the French people with more attacks against the country, according to Reuters

The man, who was killed by police along with his accomplice Adel Kermiche after slitting the throat of an elderly priest in a church in St-Etienne-du-Rouvray near Rouen, is calling on Muslims to attack the countries fighting Islamic State (IS, formerly ISIS/ISIL) in Syria. It is not known when the clip was recorded and it has not been immediately verified. It was published by AMAQ, the terrorist group's media arm.
While the media was quick to report on the chilling, but generic message of the IS supporter, many have been questioning the effectiveness of France's security system.

Kermiche, 19, had been monitored by the French authorities in the past, French prosecutor Francois Molins said, according to AFP.

The would-be attacker lived with his parents under curfew and with an electronic tag, which he had fitted after being released from prison.
Molins told the media that Kermiche tried to travel to Syria on a few occasions. During the first attempt in March 2015, one of Kermiche's family members informed the police.

He was later arrested in Germany and handed back to the French authorities. On March 23, 2015, he was detained for "criminal association in connection with terrorism" and then released on bail on the condition that he would not be allowed to leave the Seine-Maritime region of northern France.

However, just six week later, Kermiche escaped again and was discovered in Turkey on May 13, 2015.

Turkey subsequently transferred him back to France, where he was released on bail and placed under curfew while awaiting trial, according to Molins.

Neighbors said they knew Kermiche wanted to go to Syria. One of the attacker's acquaintances described the teenager as a "hyperactive child" and a "time bomb," who had been expelled from school when he was just 12 because of "behavior issues," Le Parisien newspaper reported.
There are also reports that Kermiche used social media to send out audio messages, stating his plans to launch an attack, just days before it took place. However, the messages were reportedly encrypted and the French authorities were not able to intercept them, according to the BBC.

A source in the Paris prosecutor's office said that French police received a tip-off about a planned attack in the days before the killing of the priest, adding that the warning was about the other attacker, Abdel Malik Nabil Petitjean.

Prior to the attack, police had been searching for Petitjean for several days, and allegedly had information that he was preparing an attack, according to French media.

The French government has come under heavy criticism in light of the recent attacks, as opposition parties are claiming major security failings, especially after July 14 attack in Nice that killed 84 people.
On Wednesday, Pope Francis commented on the attack during his visit to Poland, stating that it serves as proof that the world is now in a state of war.

"The word that is being repeated often is insecurity, but the real word is war," he said. "Let's recognize it. The world is in a state of war in bits and pieces."

In the wake of the recent wave of attacks, the chief of Russia's Federal Security Service (FSB) Aleksandr Bortnikov suggested that the world should share databases on terrorists in order to try and counteract terrorist threats more effectively.

"Almost every security service and law enforcement body possesses vast troves of information. However, these are isolated databases, that have to be consolidated into one," Bortnikov said.
You can share this story on social media: