'World is in state of war': Pope Francis speaks up after brutal murder of French priest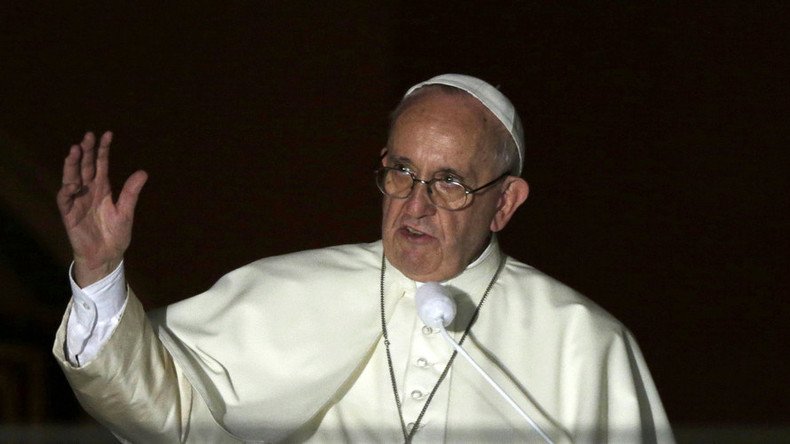 The spate of recent terror attacks in Western Europe – the latest of which saw an elderly French priest murdered by Islamist militants – serves as proof that the world is now in a state of war, Pope Francis said during his visit to Poland.
The pontiff made his strongest statement in a long time on Thursday while flying to Krakow with a group of journalists, when he was asked about the murder of Father Jacques Hamel – the French priest who was brought to his knees at the altar of his own church before having his throat slit by Islamists of Algerian origin.
"The word that is being repeated often is insecurity, but the real word is war," Pope Francis said, as quoted by Reuters.
"Let's recognize it. The world is in a state of war in bits and pieces," he said.
"Now there is this one [war]. It is perhaps not organic but it is organized and it is war," the pontiff stated. "We should not be afraid to speak this truth. The world is at war because it has lost peace."
Some 15 minutes later, having spoken to an adviser, Pope Francis opted to specify to journalists exactly who is fighting whom, and for what cause.
"[This is] Not a war of religion. There is a war of interests. There is a war for money. There is a war for natural resources. There is a war for domination of peoples. This is the war," Francis said. "All religions want peace. Others want war. Do you understand?"
Later on, holding a speech at Krakow's historic Wawel Castle, Francis addressed Polish President Andrzej Duda and the government, calling on them to welcome those fleeing "wars and hunger" while working for justice and peace and "bearing witness in practice to human and Christian values."
Poland's right-wing government has taken an anti-immigrant stance recently, refusing to participate in the EU migrant quota deal, allegedly over security reasons.
Pope Francis' visit to Poland is set to last five days. During that time, the pontiff will visit the former Nazi Auschwitz-Birkenau death camp and pray at Poland's holiest shrine in Czestochowa.
The Polish government has deployed more than 40,000 law enforcement and security personnel to ensure safety during the pontiff's visit, according to the BBC.
You can share this story on social media: