'Obsession': Pope Francis decries pursuit of body perfection during mass for disabled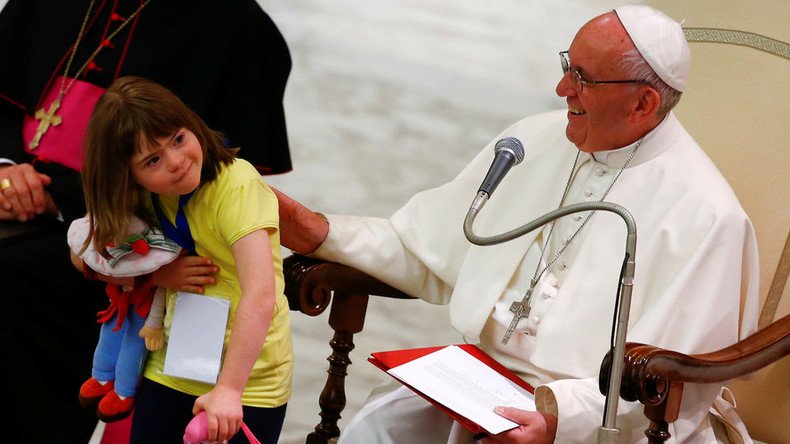 Pope Francis has slammed the pursuit of the perfect body, stating that such obsession results in the disabled being "hidden away." The comments were made during a mass dedicated to disabled people and their caregivers.
"It is thought that sick or disabled persons cannot be happy, since they cannot live the lifestyle held up by the culture of pleasure and entertainment," Francis said during Sunday's Jubilee of the Sick and Disabled mass in St. Peter's Square.
"In an age when care for one's body has become an obsession and a big business, anything that is imperfect has to be hidden away, since it threatens the happiness and serenity of the privileged few and endangers the dominant model," he added.
He decried the mindset of those who believe it is better to keep disabled people "apart, in some 'enclosure' – even a gilded one – or in 'islands' of pietism or social welfare, so that they do not hold back the pace of a false well-being."
"The world does not become better because only apparently 'perfect' — not to mention 'made-over' — people live there," but "when solidarity and mutual acceptance and respect increase," the pontiff said.
The mass involved many disabled people, including a blind woman who read an excerpt from the Bible using Braille. The service was translated into sign language, and saw mentally disabled people in costumes acting out a parable.
Pope Francis hugged and chatted many of the participants and guests at the end of the service, AP reported.
The Sunday mass is the latest instance of the Pope using his papacy to advocate for those who find themselves marginalized in societies where wealth and other financial achievements are valued over inner worth.
You can share this story on social media: