ISIS releases video purportedly showing two terrorists who slit throat of French priest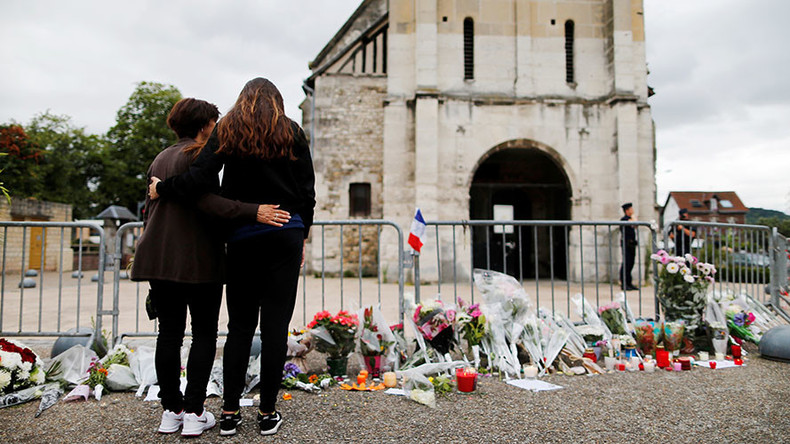 Islamic State (IS, formerly ISIS/ISIL) has made a video public showing two men the group claims to be the attackers who broke into a French church and butchered a priest.
READ MORE: 19 months of terror: Savage throat-slitting of priest the latest attack to rock France
The footage released by the Amaq news agency, the propaganda site of Islamic State, reportedly shows the two men pledging allegiance to Islamic State and its leader Abu Bakr al-Baghdadi.
Screenshots from the video have been circulating online.
One of the church attackers was identified as Adel Kermiche, 19, who was awaiting trial on terrorism charges.
He was under home detention and wore an electronic tag that let him go outside only in the mornings. He had allegedly tried to flee France to join Islamic State in Syria twice and was being monitored by police.
The other attacker is supposedly Abdel Malik P, but his identity is yet to be confirmed.
An identity card bearing the name Abdel Malik P, a 19-year-old from the southeastern town of Savoie, was found during a search of Kermiche's parents' house on Tuesday.
DNA identification of the second attacker is still in progress, French Interior Minister Bernard Cazeneuve said on Wednesday, according to French media.
Malik was known to have been radicalized and was being monitored by security services, but had no criminal record.
The two attackers took hostages in a church in Saint-Etienne-du-Rouvray in Normandy on Tuesday. They then killed 85-year-old Father Jacques Hammel by slitting his throat.
One of the hostages, who had come to the church to hear mass, was forced to film the butchery on a phone camera before being stabbed in the neck, arms, and back in front of the altar. He is now being treated at a hospital.
New chilling details of the attack in Normandy came to light on Wednesday. The atrocity took place as France was still getting over the Nice terrorist attack on Bastille day.
Forced to film execution & stabbed
An 86-year-old parishioner, who identified herself as Jeanine, told RMC radio that her husband was the hostage who had been forced to film the slaying before he was stabbed at least three times. The man, called Guy, pretended that he was dead, which apparently saved his life.

"The terrorists had given a cell phone to my husband to film or photograph the priest once executed," she said.
In describing the priest's murder, the woman said that "he fell down looking upwards, toward us. You could see blood running from his mouth."

Asked about how she reacted when she thought her husband had been killed, Jeanine said: "I saw him and I thought he was dead and it was going to be our turn."

"When one of the terrorists approached me, he told me he wouldn't hurt me because we were used as hostages. He spoke of the three nuns and me," Jeanine recounted in an emotional interview.

"The terrorists held me with a revolver at my neck," the woman said, adding that she didn't know if it was a real or fake weapon. Media reports following the attack have suggested that the gun was fake.

Jeanine is now with her children, who immediately came to their parent's house to help her deal with what she had to gone through.
The terrorists were armed with knives and fake explosives, including a mock suicide belt made of tin foil, Paris prosecutor Francois Molins said.
Three days prior to the attack, an 18-year-old in the nearby city of Rouen identifying himself as Redwan saw his neighbor Kermiche dressed in a long Islamic robe.

Kermiche told him about his failed attempts to leave for Syria and recommended that Redwan "go there to fight for our brothers," AP reported.

"We were saying that is not good. And he was replying that France is the land of unbelievers," he said.
'Pledging allegiance to ISIS'
The footage of the alleged attackers released on Wednesday allegedly shows two Middle Eastern-looking men who identify themselves as Abul Jaleel al-Hanafi and Ibn Omar clasp hands and pledge allegiance to Islamic State.
READ MORE: Normandy church attack 'symbolic', attempt to 'cultivate war between West & Islam'
One of them is wearing a camo outfit and the other's head is covered with a scarf, probably a
kaffiyeh, which is a traditional Middle Eastern male headdress. At some points, they raise their index fingers and speak in broken Arabic, promising to be faithful to IS leader Abu Bakr al-Baghdady "in hardship and in ease," according to AP.
Security boost
More than 50 mass events planned in France this summer are to be held under a tightened security regime, and some may be even cancelled, French Interior Minister Bernard Cazeneuve said, as reported by AP.

Defense Minister Jean-Yves Le Drian said that around 4,000 members of the Sentinel military force are to patrol Paris, backed by tens of thousands of police officers and reservists.
You can share this story on social media: