Ansbach attacker pledged allegiance to ISIS, had materials for another bomb – police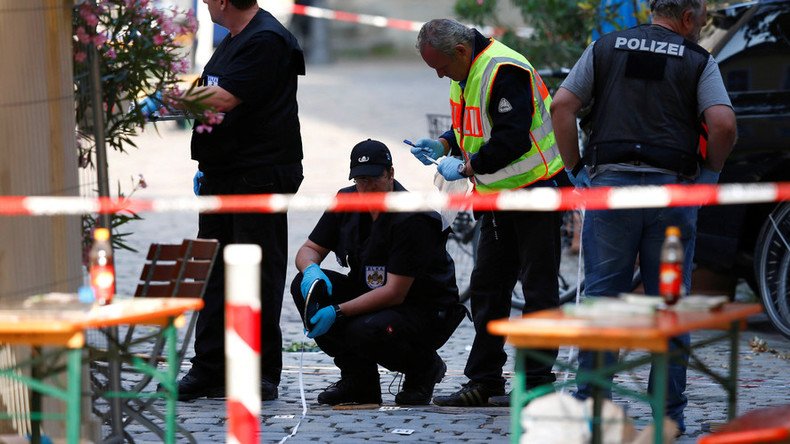 The attacker who left a bomb outside a bar in Ansbach, Germany, had enough materials to make another explosive device, according to police. The man also pledged allegiance to Islamic State in a video found on his phone.
The attacker, identified as Mohammad D., possessed gasoline, chemicals, and other material that could be used to make a bomb, Bavarian Interior Minister Joachim Hermann said, as cited by AP.
The attacker had also pledged allegiance to Islamic State (IS, formerly ISIS/ISIL) leader Abu Bakr al-Baghdadi on one of his phones.
"A provisional translation by an interpreter shows that he expressly announces, in the name of Allah, and testifying his allegiance to Abu Bakr al-Baghdadi, a famous Islamist leader, an act of revenge against the Germans because they're getting in the way of Islam," Hermann said at a news conference.
"I think that after this video there's no doubt that the attack was a terrorist attack with an Islamist background," he added.
IS has also claimed responsibility for the attack, according to Amaq news agency.
Hermann said that two mobile phones were found that belonged to the man, along with multiple SIM cards and a laptop, Reuters reported.
He said officers also discovered videos with "Salafist content" on storage devices seized from the man's home.
The 27-year-old attacker, originally from Syria, had been denied asylum in Germany and had twice been ordered to be deported to Bulgaria, his point of entry into the European Union, according to officials cited by The New York Times.
He had received asylum in Bulgaria in 2013, according to Hermann.
The Sunday night explosion left at least one person dead and 15 others injured.
The blast was one of four violent attacks to hit Germany in a matter of just one week. German officials have said that such attacks are expected to intensify.
You can share this story on social media: