Bavaria bomb blast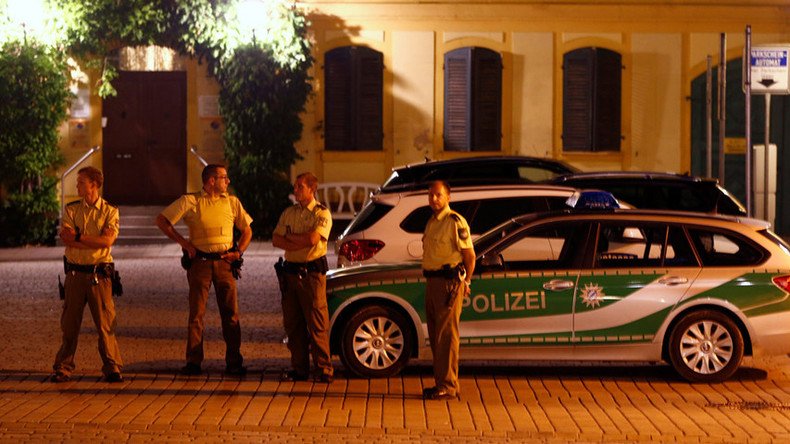 An explosion outside a bar in the southern German city of Ansbach, Bavaria, has left at least one person dead and 15 others injured. A large-scale investigation has been launched into what is believed to have been a "deliberate" act.
25 July 2016

14:32 GMT

Islamic State (IS, formerly ISIS/ISIL) has claimed responsibility for the attack, according to Amaq news agency.

14:14 GMT

Speaking at a news conference, Bavarian Interior Minister Joachim Hermann said that "a provisional translation by an interpreter shows that [the attacker] expressly announces, in the name of Allah, and testifying his allegiance to Abu Bakr al-Baghdadi, a famous Islamist leader, an act of revenge against the Germans because they're getting in the way of Islam."

"I think that after this video there's no doubt that the attack was a terrorist attack with an Islamist background," he added.

14:11 GMT

The attacker had twice been ordered to be deported to Bulgaria, his point of entry into the European Union, according to officials cited by The New York Times.

He had received asylum in Bulgaria in 2013, according to top Bavaria security official Joachim Hermann.

13:29 GMT

German police say the attacker had enough materials to build another bomb.

13:28 GMT

Bavaria's interior minister says a video on the attacker's phone makes it clear that the explosion was a terror attack.

13:25 GMT

The German interior minister has ordered increased police presence at airports, train stations, and borders.

10:59 GMT

German daily Die Welt has quoted Bavarian Interior Minister Joachim Herrmann as saying that it was unclear whether the 27-year-old Syrian man who set off a bomb outside a crowded music festival in Ansbach, wounding 12 people, was an Islamist or not.

"My personal view is that it is unfortunately very likely that a real Islamist suicide attack took place here," Herrmann said.

An Interior Ministry spokesman, Tobias Plate, said on Monday that the Syrian suicide bomber was in fact to be deported to Bulgaria. Plate said Syrians can't be deported directly to Syria because of the situation there, adding that he could not say "at this moment why the deportation" of the failed asylum seeker failed to take place, AP reported.

04:27 GMT

The suspect was first noticed by security staff at the Ansbach Open concert at around 9:45pm, police said in an updated statement. After he was refused entrance, the 27-year-old Syrian sat outside a local wine restaurant, where at about 10:10pm, according to the testimony of witnesses, the suspect leaned forward and detonated explosives.

Police added that the suspect has lived in Ansbach since July 2, 2015 and had a "criminal" history. A special commission with more than 30 people was established to handle the investigation.

04:00 GMT

Police are asking any witnesses who captured footage of the attack to send it to the authorities.

03:45 GMT

Following a press conference, Bavarian Interior Minister Joachim Herrmann (CSU) told Germany's DPA, that he personally considers the bombing in Ansbach to have been the work of an Islamist suicide bomber.

"My personal opinion is that, unfortunately I think, it is very obvious that there has been a real Islamist suicide attack here," Herrmann said early Monday.