Teachers boycott graduation after Muslim student refuses to shake hands with female principal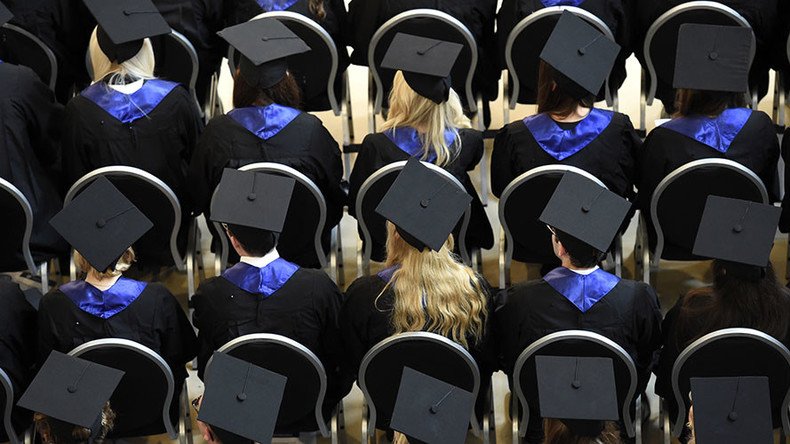 Teachers at a school in Germany have stormed out of a graduation ceremony after a Muslim student refused to shake hands with the female principal.
The student at the Kurt-Tucholsky School in Hamburg, whose name has not been disclosed, was initially approached by his class mistress at an end-of-year graduation ceremony for A students. She offered to shake his hand to congratulate him on successfully passing exams, but he refused, the Hamburg Morning Post reports, and offered his covered wrist instead.
In a private conversation, which he requested, the boy explained to the teacher that he meant no insult, but could not do otherwise due to religious restrictions. Some extreme forms of Islam forbid shaking hands with people of the opposite sex, regardless of their faith. Non-essential physical contact with strange people in Islam is limited as a sign of modesty and chastity.
The situation became more serious, however, when after this first handshake misunderstanding, the same student refused to shake hands with the school's principal, who is also a woman. School staff members witnessed the incident and were offended by it.
Five teachers called on the principal, Andrea Lüdtke, to order the boy to leave the event. After Lüdtke refused, they decided to boycott the rest of the ceremony. Local media report that the rest of the evening was marred by "intense discussions" about the incident, with both teachers and students confused by the boy's behavior.
READ MORE: Muslim boys must shake hands with female teachers or face fine, Swiss canton rules

Lüdtke defended the boy in an interview to the Hamburg Morning Post, claiming he was an enthusiastic student, showing exceptional results in religious studies and other subjects. She noted that he was "in no way radical or extremist."
The graduates asked Lüdtke to draw up a general guideline to prevent such cases from happening in the future, Der Spiegel reports. "We are now considering how to signal to the public that we cannot tolerate such behavior," Lüdtke told the newspaper, stressing that it was the first time a handshake had become an issue at her school.
READ MORE: Twitter users mock 'integration safety' guide for refugees with behavior tips for Germany
Germany has recent history regarding inter-gender handshaking. A conflict between an imam and a female teacher at a Berlin private school over a handshake in June grew into a legal complaint against the latter, after the teacher claimed the imam should "adapt to German culture." Elsewhere in Europe, a Muslim passport inspector at the Swedish border got into hot water for refusing to shake hands with his female colleagues, who filed a complaint. The man was later acquitted, however.
In Switzerland, on the other hand, officials of the canton of Basel-Landschaft, adopted regulations forbidding students to refuse a handshake, stating that by doing so students would involuntarily involve others "in a religious act."
You can share this story on social media: