Berlin imam files complaint against teacher who insisted on handshake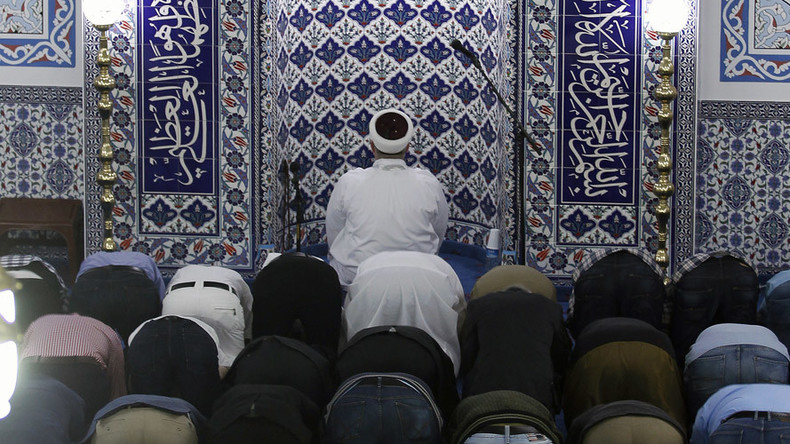 A conflict between an imam and a female teacher at a Berlin private school over a handshake has escalated into a legal complaint against the woman, German media outlet RBB24 reports.
The preacher, Kerim Ucar, was initially called in for a conversation over his sons' involvement in brawls at the Platanus School in the Berlin district of Pankow. The female teacher tried to greet the father with a handshake, but Ucar rejected the gesture citing religious reasons.
According to RBB24, the imam, a conservative Shiite who's been living in Germany for 15 years, instead placed his hand on his heart, saying that was the highest possible way for him to greet a woman. The teacher however insisted on a handshake, claiming the imam should "adapt to the German culture."
"She tried to forcefully make a handshake four times" Ucar claimed to RBB24, adding that his religious beliefs had been known for months.
After Ucar repeatedly rejected the handshake, the teacher broke up the meeting, accusing the father of disrespect.
"The action of the teacher was intended, it is based on prejudice. This is disrespect for the beliefs of others and xenophobia. We were discriminated [against] and insulted because of our religion. We also have been deeply hurt personally. And all this in front of our son," Ucar is quoted as saying by the RBB24.
The family has since taken their son and his brother from Platanus School "because we do not have any trust anymore." After consulting a lawyer, Ucar and his wife filed a complaint to the local police over defamation of religious beliefs.
There has been no contact between the family and the school since then.
READ MORE: Muslim border inspector refuses to shake hands with female colleagues in Sweden
Talking to Berlin Radio Eins, the capital's former Commissioner for Integration Barbara John said, "If such a situation escalates, then it's wrong and you have to prevent it. And it must be especially done by those who should show professionalism in their job, and this would be both the teacher and the school."
"Integration means to us that we obey the laws of the host country. However [we] do not have to accept the culture of that country unconditionally," said Ucar according to RBB24.
The case also caught the attention of social media users, with some infuriated by Ucar's gender-based refusal of a handshake.
Others had no problem with it and called for respect towards all religions.
#Imam verweigert Lehrerin Handschlag. Und wo ist das Problem? Kann Frauenfeindlichkeitsgejammer nicht mehr hören. Respekt vor and.Religionen

— Barbara Stern (@bsschnuppe) 23 июня 2016 г.
In September last year, German politician Julia Glockner from Chancellor Angela Merkel's ruling party, the CDU, was denied a handshake by an imam while visiting a refugee facility in the Idar Oberstein. In an interview to German media outlet Focus Online, she later called for an integration law.
"There are certain positions in Germany that are not negotiable" Glockner said.
A refusal of a handshake with a female teacher due to religious beliefs was ruled unlawful by the Swiss canton of Basel in May this year. The department of education, culture and sport said back then "The public interest with respect to equality between men and women and the integration of foreigners significantly outweighs the freedom of conscience (freedom of religion) of the students."
Parents of the students who denounce a handshake with the teacher would otherwise face a $5,200 fine.
And just this month a Swedish female passport inspector filed an internal complaint against a Muslim colleague who refused to shake hands with her while greeting. The man then claimed he was discriminated against over his religion
You can share this story on social media: