Muslim border inspector refuses to shake hands with female colleagues in Sweden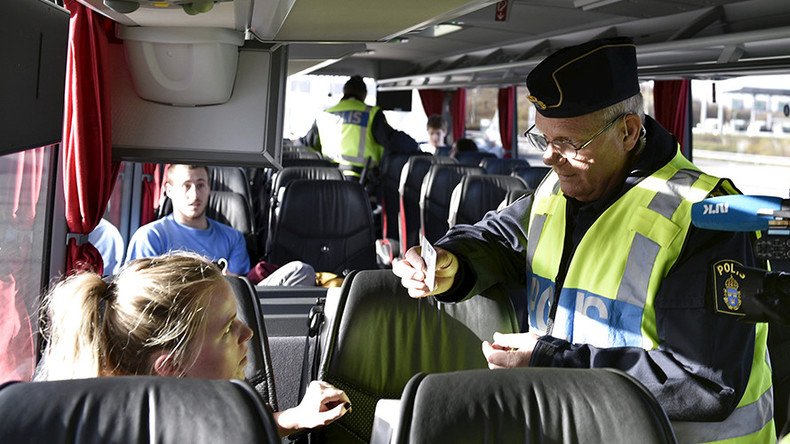 Police probing the controversial case of a Muslim passport inspector at the Swedish border, who refused to shake hands with his female colleagues, have eventually sided with the man.
Photo identification checks introduced at Sweden's Malmö's Hyllie station in November in response to the ongoing refugee crisis have necessitated bringing in around 70 specially trained civilian ID inspectors.
One of them has recently become embroiled in a row after he declined to shake hands with his female colleagues because it is prohibited by his faith, local media reported. In mid-May he greeted the women by putting his hand over his heart instead, according to Swedish news outlet SVT.
The women, who obviously were used to being greeted the same way as men, took offence and reported the incident.
"He did not shake my hand when we came to visit. I don't want to speak about it, because I have decided to submit the case to management," one of the female police officers working with the man told SVT.
Tensions started growing as the man responded by accusing his colleagues of religion-based discrimination. Additionally, three police officers sent a letter to management expressing concern that the man's religious beliefs could adversely affect his work.
"It has naturally provoked reactions. Several people talked to me about it," Fredrik Brokop, representative of the local police, told SVT.
"It took us in many ways by surprise. All parties are upset and sad, but we're trying to resolve it through dialogue. The police [are] Sweden's largest state organization; we want to and we have to embrace diversity," Ewa-Gun Westford, police spokesperson, told The Local on Thursday, also noting that there had been no complaints about the man's performance at work.
This is not the first time handshaking has triggered fierce debate in Sweden. A Muslim politician from the Green Party was forced to quit a few weeks ago after being heavily criticized for not shaking hands with a female journalist.
"In today's political climate, I wonder if politics is right for me, and if I want to be a media circus clown," the politician told the Nyheter24 news site after his resignation.
In May, controversy hit Basel when a local court ruled that Muslim schoolboys in Switzerland must shake their female teachers' hands otherwise they could face a 5,000 SFr (almost $5,200) fine.
Non-verbal gestures, including greetings, vary across religions, cultures and countries. Muslims not shaking hands with people of the opposite gender, regardless of their faith, is only one of many examples. Islam limits non-essential physical contact with people outside the family as a sign of modesty, humility and chastity.
You can share this story on social media: