Ayatollah Khamenei says Iran won't coordinate with US on Syria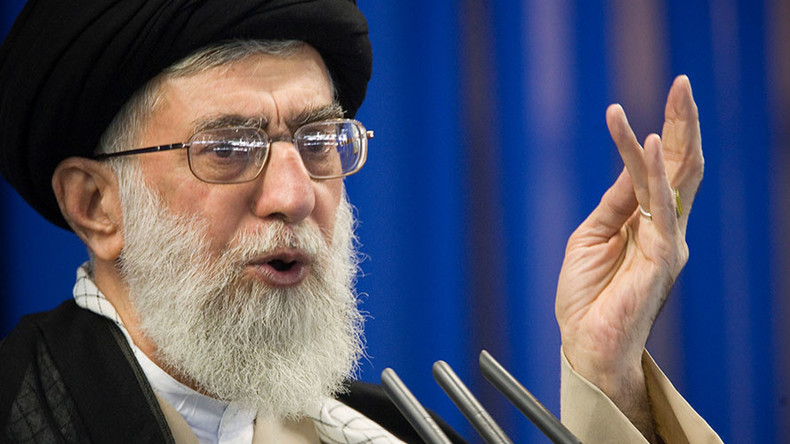 Tehran will never coordinate with the United States in relation to Syria or any other regional conflicts, Iran's supreme leader Ayatollah Ali Khamenei told university students.
"We don't want such coordination as their [the US'] main objective is to stop Iran's presence in the region," Khamenei said, according to the transcript of his speech published on his website Sunday.
Iran, along with Russia, has been supporting Syrian President Bashar Assad in his fight against Islamic extremists.
Khamenei commented on the situation in which, despite the nuclear deal coming into force in January, international financial institutions and banks are still reluctant to do business with Tehran because of certain sanctions still not lifted by Washington.
Both the American Congress and US administration are "still engaged" in hostility against the Iranian nation, Khamenei said.
"Those who believe in looking to the West for the progress of the country have lost their minds because wisdom tells us to learn from experience," Khamenei said.
On Friday, in a speech aired live on state TV, Khamenei said that "America has continued its enmity towards Iran since [the 1979 Islamic] revolution... It is a huge mistake to trust the evil Britain and the great Satan [the United States]."
Khamenei explained that Washington should not be cooperated with because "their aims in the region are 180 degrees opposed to Iran's."
He also advised student organizations to form a "united anti-American & anti-Zionism front of students in the World of Islam."
The leader noted that Muslim students should "launch campaigns in cyber space" to oppose hostile regimes.
Khamenei's military aide also said Friday that the US would "disintegrate" within the next quarter-century.
"The US has reached a point today that it will witness fragmentation and disintegration 25 years later," Fars news agency cited General Nasser Arasteh as saying.