Khamenei says Iran still faces problems in international financial system, blames US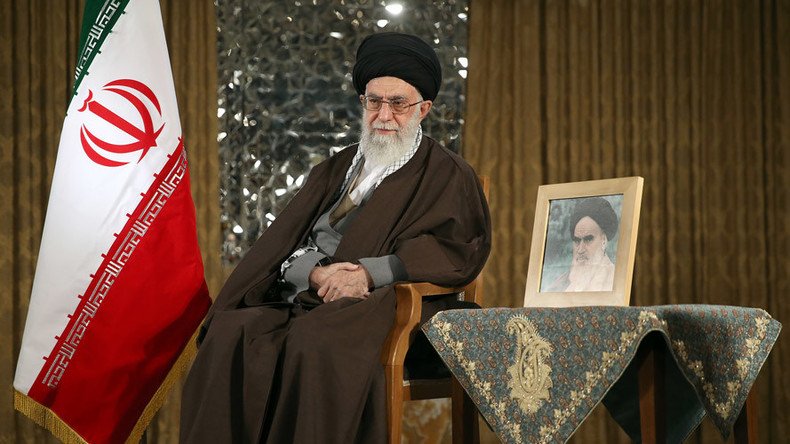 Iran's leader Ayatollah Ali Khamenei has blamed the US for difficulties his country faces in the international financial system despite the landmark nuclear deal, saying Washington removed sanctions only "on paper."
"In Western countries and places which are under US influence, our banking transactions and the repatriation of our funds from their banks face problems... because [banks] fear the Americans," the Supreme Leader said in a televised address on Sunday, as quoted by Reuters.
Saying that the Iranian nation has no choice but to either comply with Washington or "permanently withstand the pressure of America," Khamenei said that "the Americans have not acted on their promises and [only] removed the sanctions on paper."
Not only does the current US leadership act in a way to prevent "big corporations, big institutions and big banks" from dealing with Tehran, but candidates running for the US presidency also display hostility towards his nation, the top Iranian leader said.
READ MORE: Iran ordered to pay $10.5 billion for 9/11 by US judge
"The candidates for the American presidency have competed to vilify Iran in their speeches, and this is a sign of hostility," he said in a speech marking the start of the Iranian New Year, Nowruz.
Saying that there will be "both opportunities and threats" for the nation in the year ahead, Khamenei called for "the people of Iran [to] do something to liberate themselves from vulnerabilities in the face of the enemies' threats."
Proclaiming economy "the first priority... the most urgent and essential one" in the new year for Iran, the country's leader said that the "cure" for problems like unemployment and inflation is in boosting domestic production and "economic resistance."
"With the economy of resistance, we can fight unemployment and recession, control inflation and confront the threats of enemies," he said.
READ MORE: Oil production freeze talks may go ahead without Iran
Nuclear-related sanctions against Iran have been lifted earlier this year, after years of international talks. After the breakthrough nuclear deal between Tehran and world powers, including the US, was implemented in January, expectations of economic recovery in the Middle Eastern country were running high, with Iran placing its hopes on renewed foreign investment and resumed oil sales.
You can share this story on social media: