German court again rejects Erdogan's attempt to silence critical publisher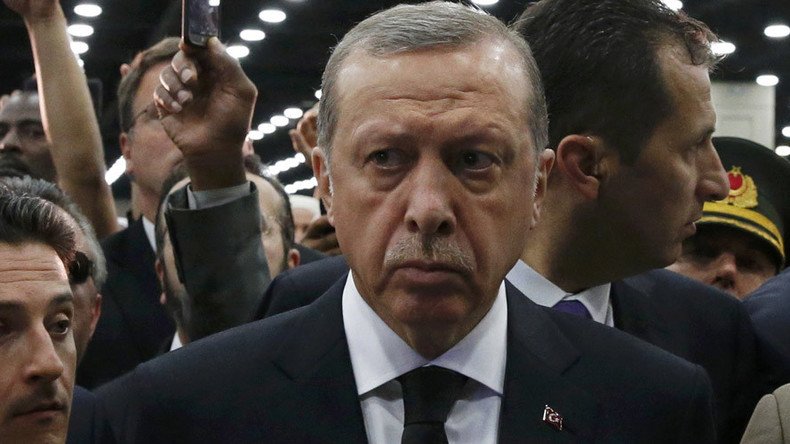 A German court has again rejected an appeal by Tayyip Recep Erdogan for an injunction against Mathias Doepfner, the head of publishing house Axel Springer. The CEO penned a letter in support of a satirist who mocked the 'zoophilic needs' of the Turkish leader.
READ MORE: Turkey + EU = Censorship? 5 times Erdogan tried to get Europe to silence his critics
Erdogan's appeal was rejected by a German appeals court on Tuesday. The lawyers of the Turkish president, however, said they still were considering whether to file a separate lawsuit against the Axel Springer CEO.
The story started with the release of the now-popular poem by German comic Jan Bohmermann back in March this year. The poem implied that Erdogan was involved in alleged sex acts with goats and had a proclivity for child pornography.
READ MORE: 'Delicious & juicy' Erdogan burgers off the menu: Threats force German eatery to close
Erdogan took exception to the poem, and later German Chancellor Angela Merkel also indicated she found it insulting. Bohmermann now faces prosecution under a rarely-used law that punishes those who insult foreign dignitaries.
Critics of the move said Merkel was doing everything possible in an effort not to "upset" Turkey, which has recently become crucial in an EU plan to tackle the migrant and refugee crisis.
Yet there were many who found the notorious poem amusing – including Mathias Doepfner, the Chief Executive Officer of German media group Axel Springer SE.
In a letter published by Die Welt in April, Doepfner said that he "wholeheartedly" endorsed the critical poem over which Bohmermann is facing defamation charges from Erdogan.
"For me your poem worked. I laughed out loud," he wrote, adding that he backed the comedian.
READ MORE: German court rejects Erdogan's attempt to shut up critical publisher
In May the Turkish leader then requested that a lawsuit be filed against Doepfner. However, a Cologne court refused to grant an injunction against him. "The defendant has a right to free expression of opinion," read a statement from the court, following Tuesday's hearing.
At least 1,845 cases have been opened against those accused of insulting Erdogan since he came to office in 2014, Turkish Justice Minister Bekir Bozdag said back in May this year.
One of the most notable cases involved journalists from Cumhuriyet newspaper. In May, a Turkish court convicted Can Dundar, the editor-in-chief, and Erdem Gul, chief of the paper's Ankara bureau, on charges of "revealing state secrets." They were sentenced to over five years in prison.
You can share this story on social media: