NATO boosts build-up in E. Europe, confirms deployment of four multinational battalions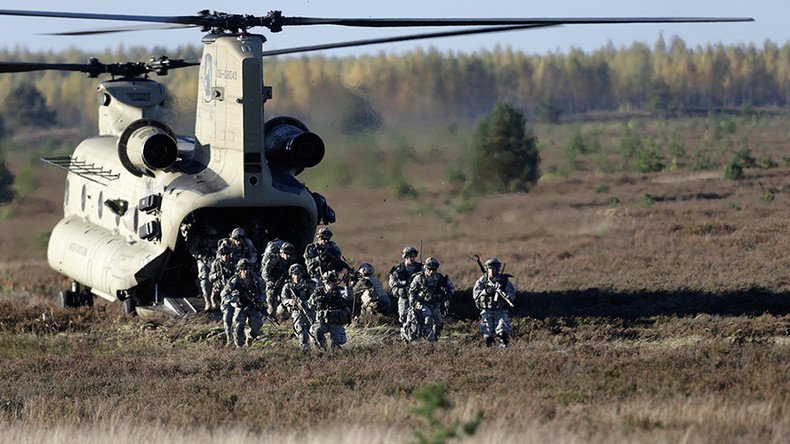 After a NATO meeting in Brussels, the alliance's secretary-general, Jens Stoltenberg, confirmed that it plans to deploy four multinational battalions in the Baltic States and Poland, while President Putin has ordered snap inspections for Russia's military.
On Tuesday, NATO agreed to deploy a new 4,000-strong force in the Baltic States and Poland, NATO Secretary-General Jens Stoltenberg said after a meeting of the block's ministers in Brussels.
The move is seen as part of an effort aimed at protecting its Eastern European allies from Russia, which NATO apparently perceives as a threat.
The four battalions will reportedly be provided by Britain, the US, Germany, and possibly Canada, and is to be deployed in Lithuania, Latvia, Estonia, and Poland on a six-to-nine month rotating basis, becoming NATO's biggest military buildup since the Cold War, diplomats told Reuters earlier.
US Defense Secretary Ash Carter also promised that "there will be a continually present armored brigade combat team, which will bring in its own equipment with each rotation."
The 4,000 troops are part of a wider deterrent against Russia planned by the 28-member block, which is to be finalized at a NATO summit in Warsaw next month.
There was an "understanding" between Washington and Moscow at the end of the Cold War that NATO wouldn't expand east, former US Ambassador to the USSR, Jack Matlock, confirmed to the US Senate amid the alliance's ongoing military buildup in the Baltics.
During a House Foreign Affairs hearing on Tuesday, US Congressman Dana Rohrabacher asked Matlock if there had been an understanding that "we [the US] would not have an expansion of NATO so that Russians would withdraw their troops" from eastern Europe.
"It was indeed the understanding at that time," Matlock, who was US ambassador in Moscow from 1987 to 1991, replied.
However, the former diplomat stressed that it was "not a legal commitment."
Besides the rotating battalions, the plan includes creating a highly mobile "spearhead" force and a 40,000-strong rapid reaction force, as well as warehousing battle-ready equipment.
"We don't seek confrontation with Russia, we don't want a new Cold War," Stoltenberg told the press ahead of the meeting in Brussels, though he added that "NATO will continue to protect and defend all allies from any threat."
The deployment of the new force is being welcomed by NATO's eastern European allies, although they still seek more support from the military alliance.
The US is pushing for the installation of a sophisticated anti-missile shield in Eastern Europe to deter the "Russian threat," which would involve increasing the number of NATO fighter jets and surface-to-air missile interceptors in the region.
In addition, Bulgaria and Romania are demanding that the block expand its maritime presence in the Black Sea to counter Russia's fleet stationed in Crimea, which reunited with Russia in 2014.
After Tuesday's meeting, Stoltenberg also said that NATO is planning to "further increase and step up" its military presence in the strategic Black Sea region.
According to the Secretary-General, the block is weighing the establishment of a multinational framework brigade in Romania, which was proposed by the country's government in Bucharest.
"We have decided to implement tailored measures for Black Sea region… there will be more NATO presence, and I also welcome the initiatives and the proposals from Romania making that possible," he said.
Russia has long criticized NATO's military buildup, calling it a threat to its national security and stability in Europe.
Dmitry Peskov, the press-secretary of Russia's president, said on Tuesday that the country's military and intelligence are keeping a close eye on NATO's activities near its borders.
"Our Defense Ministry and all responsible services are duly watching all changes in the dislocation of foreign military forces near our borders. They analyze all changes and movements, and take measures to defend Russia's interests and protect its security," Peskov stressed.
Earlier on Tuesday, Russian President Vladimir Putin ordered snap checks of all branches of the country's armed forces.
According to the Defense Ministry, the inspection will take place in all of Russia's military districts through June 22 and will mainly focus "on the combat readiness condition objectives."
You can share this story on social media: