German swimming pool bans 'burqini' for Muslim women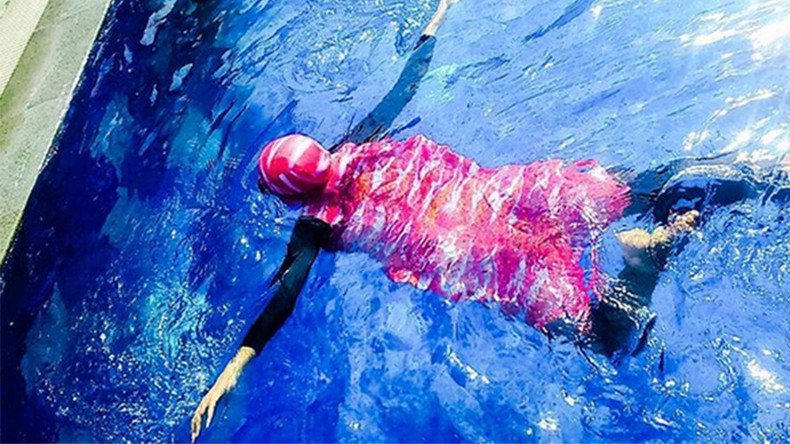 A style of swimwear has caused an uproar at a public pool in Germany, but the culprit isn't a revealing bikini. Instead, it's the 'burqini' that's been banned – the modest swimsuit worn by some Muslim women.
When the indoor pool in Neutraubling, Germany, held a women-only day, one of the swimmers opted to wear a burqini while swimming and participating in water aerobics.
However, her attire led to complaints from other women at the pool, Mittelbayerische newspaper reported.
The move was also criticized by the town's mayor, Heinz Kiechle.
"Why the burqini as a full-body suit would be necessary to wear during a women's swim day is for me incomprehensible," he said, as quoted by The Local.
Kiechle also told Mittelbayerische that it "contradicts the basic idea of integration and mutual recognition which is always being discussed in many towns."
According to the mayor, the ban on burqinis has to do with a rule which states that "only generally typical apparel" can be worn in the swimming pool. He stressed that an exception will not be given to Muslim women.
Kiechle also said that one of the reasons for the policy is that some refugees had reportedly tried to go swimming in their underwear. However, lifeguards at the pool could not confirm that, according to Mittelbayerische.
But not everyone agrees with Kiechle's approach. Some are calling for a repeal of the ban, citing the German Basic Law of fundamental rights for religious freedom.
"We see this case not only as a clear violation of fundamental rights...but also as a blow to humanity and tolerance," the Green Youth party wrote in a letter calling for an end to the ban.
Germany is dealing with an increase in Muslim residents, following Chancellor Angela Merkel's open-door policy for those fleeing war and persecution. The country welcomed an estimated 1.1 million refugees in 2015, most of whom hailed from Syria, where a civil war has killed more than 250,000 people and displaced more than 12 million, according to UN figures.
But Germany isn't the only European country where bans on Muslim clothing are taking place. In May, a Danish education center told six Muslim students they could no longer attend classes unless they removed their niqabs. The burqa and niqab have also been banned in parts of Switzerland and Italy, and both Belgium and France have placed public nationwide bans on the niqab and burqa.
You can share this story on social media: