Qatar summons US ambassador over video with soldiers laughing at national flag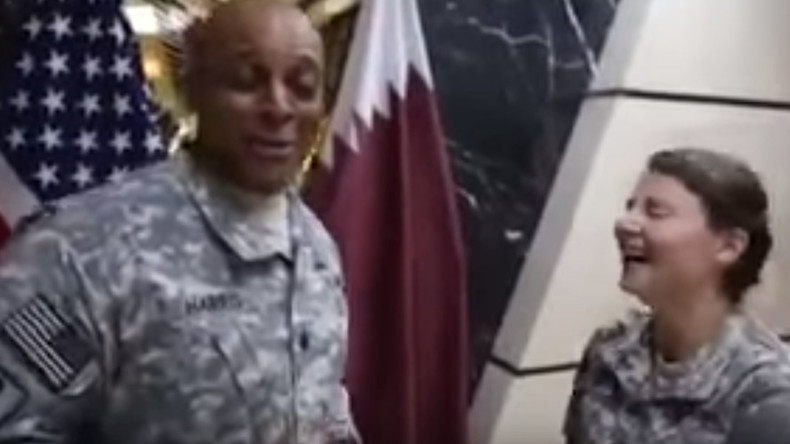 The US ambassador to Qatar has been summoned over a video that circulated on social networks showing American soldiers laughing in front of Qatar's national flag.
Qatar, which houses the largest US air base in the Middle East, Al Udeid Air Base, outside the capital city of Doha, summoned US Ambassador Dana Shell Smith on Thursday to provide an explanation over a video that emerged online featuring two American soldiers, a man and a woman, making jokes and laughing standing in front of the maroon and white Qatari flag.
At some point the man can be seen pointing at the flag while the woman is heard saying, "we have to be serious" obviously failing to follow her own advice.
Qatar's Foreign Ministry announced its decision to summon the US envoy in a series of tweets.
The Ministry of Foreign Affairs has summoned the #American Ambassador to the State of #Qatar 1

— MOFA - Qatar (@MofaQatar_EN) June 9, 2016
over the video which was recently circulated in social media network. She was asked for an explanation of the contents of that video. 2

— MOFA - Qatar (@MofaQatar_EN) June 9, 2016
Dana Shell Smith subsequently met assistant foreign minister Sultan bin Saad al-Meraikhi to render an apology and settle the matter.
The US military command was ordered to launch an investigation into the incident, Smith wrote on her Twitter afterwards. The soldiers in the footage will have to face disciplinary action.
READ MORE: Egyptian TV station plays ISIS suicide belt 'prank' on sobbing actress (VIDEO)
"Rest assured that these soldiers made fun of themselves and not of the state of Qatar," the ambassador added.
Qatar is known to be exceptionally sensitive when it comes to its national flag. In 2012 the then Emir Sheikh Hamad bin Khalifa Al Thani signed into law a set of tough rules of how the flag should be treated. In particular, those who see the flag must immediately stop to greet it, while those who show disrespect to it could face up to three years in jail or a $55,000 fine.