Egyptian TV station plays ISIS suicide belt 'prank' on sobbing actress (VIDEO)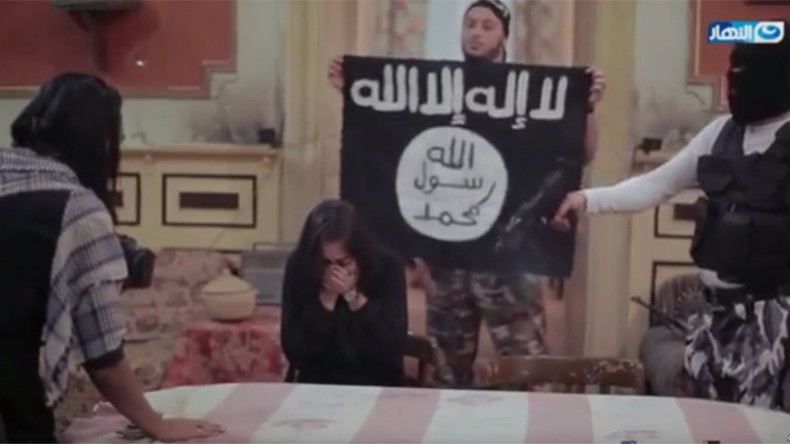 An Egyptian actress was reduced to a sobbing, nervous wreck on national television when pranksters staged a fake Islamic State terrorist abduction and tried to make her wear a phony suicide belt.
Militants linked to Islamic State (IS, formerly ISIS/ISIL) have previously claimed attacks on the north African nation, so it is not inconceivable that Heba Magdy believed she had somehow become embroiled in a terrifying terrorist plot.
The extraordinarily cruel prank was part of Egyptian channel Al Nahar TV's show Mini Daesh which involves actors dressed in militant uniforms and carrying crude IS flags frightening unsuspecting victims.
On Monday, Al Nahar TV tweeted a clip of the bizarre hidden camera program, showing the "breakdown" of their first 'hostage' Magdy.
During the show, Magdy sobs uncontrollably as she is surrounded by a group of masked men carrying guns and a whip.
At one point the screaming woman cowers behind a wooden chair, while a 'terrorist' attempts to wrap a prop suicide vest stuffed with hoax explosives around her.
The traumatic trick culminates with police apparently surrounding the building as firecrackers go off and a man in a balaclava points a rocket launcher at the door.
AhlulBayt News Agency report that Magdy was unaware it was all a prank, believing it was real throughout the ordeal.
Other episodes of Mini Daesh have since aired on Al Nahar TV, with one frightened man being forced to swear an oath in front of the IS flag.
Egyptian pranksters have previously made global headlines due to their penchant for over-the-top jokes.
Paris Hilton reportedly threatened to sue notorious TV rogue entertainer Ramez Galal, after she was led to believe a plane she was traveling in was about to crash.
The US socialite was in Dubai to open a new hotel when she boarded a flying tour of the city. However, half-way through the pilot simulated an engine failure leading a screaming Hilton to believe she was plummeting to her death.
"Are we going to land or not? Why can't we land… where is the pilot?" she can be heard shouting, before a man, for some reason, is pushed from the back of the open plane.
Galal later apologized to a crying Hilton and revealed she was the unwitting participant in a prank show.
"That's like been the biggest fear of my whole life - dying in a plane because I fly almost every day of my life. Oh my god," a clearly distressed Hilton said.
Galal usually hosts a Ramadan prank show in which he pushes celebrities to the brink - both physically and emotionally.
On Monday, his show Ramez Plays with Fire staged a towering hotel inferno to dupe Lebanese singer Ragheb Alama, although there has been speculation that Alama actually knew what was going on during the explosive events.