Jewish extremist held over attack that killed toddler released after 10 months in detention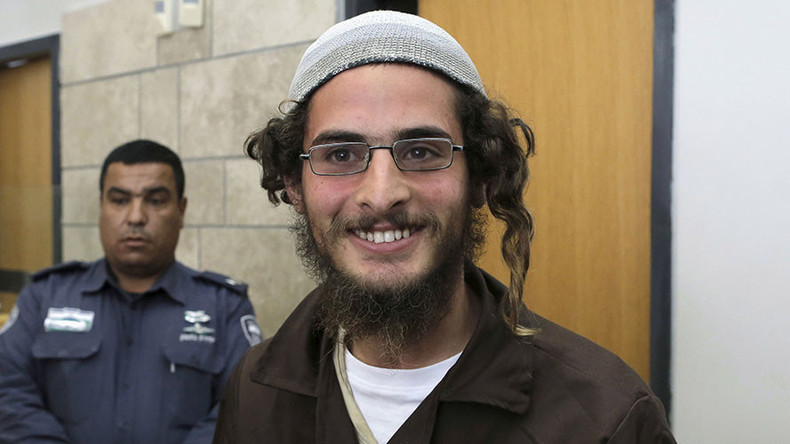 Israeli police have released a Jewish extremist that was held in administrative detention for almost 10 months on suspicion of playing a leading role in a terrorist group targeting Palestinians.
READ MORE: Former Mossad chief: End is near for 'fearmonger' Netanyahu's govt
Far-right activist Meir Ettinger was released without being charged on Wednesday, although he is still under heavy restrictions, local media reported.
He was initially taken into custody in August of last year for allegedly taking part in an arson attack in the West Bank that killed an 18-month-old boy when he and his parents were burnt alive.
Several extremists were arrested at the time, two of which were eventually charged with the arson.
Israel's internal security agency, the Shin Bet, didn't elaborate on the reason for Ettinger's release.
The accused arsonist has been banned from Jerusalem and the town of Yad Binyamin for six months and the regions of Judea and Samaria for a year. He will also be subject to a night curfew and must refrain from contacting 92 people on a list of far-right activists.
Defense Minister Moshe Ya'alon had issued an order for his detention for "involvement and activity in a Jewish extremist organization" and allegedly posing threat to public security.
Ettinger, whom Shin Bet regards as one of the most dangerous far-right activists, is the grandson of US-born Rabbi Meir Kahane – a notorious Jewish extremist. He is believed to be one of the leaders of Israel's "hilltop youth," a group that attacks Palestinian, Christian, and Israeli targets and resists soldiers who attempt to remove Israeli West Bank settlers, according to the Times of Israel.
Other reports say Ettinger is the head of a religious group called Revolt, which kindles hatred between Arabs and Jews with the aim of destroying any chance for a secular Israel.
Jamal Dajani, a spokesman for the Palestinian government, said that Ettinger "will be now allowed to roam free and put Palestinian lives in danger."
READ MORE: Israeli intelligence busts Jewish terror cell responsible for firebombing Palestinian homes
You can share this story on social media: