'Israeli extremists backed by security forces' repeatedly storm Al-Aqsa mosque during Passover week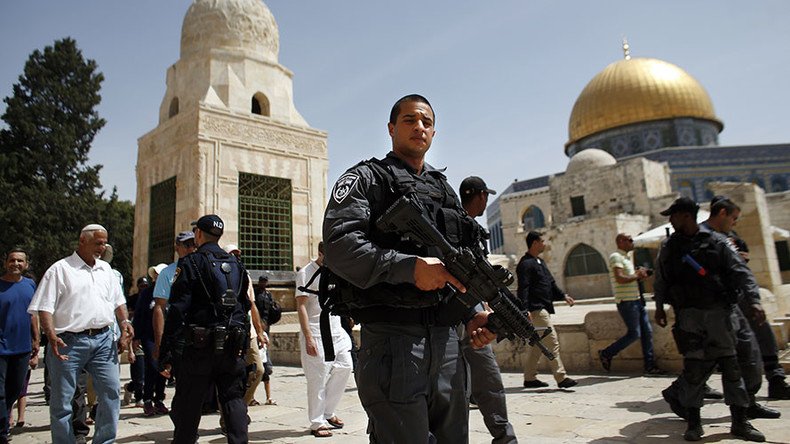 Israeli settlers reportedly backed by security forces have stormed the Al-Aqsa mosque in Jerusalem for the fourth time since the beginning of the Passover week. They shouted racist slogans and attempted to conduct religious rituals forbidden at the site.
A new string of clashes erupted at the Al-Aqsa mosque, a major holy site for Muslims and Jews, on Wednesday as far-right Israeli settlers under heavy protection from police broke into the mosque, local media reported. Two groups of around 50 men were said to have shouted racist and provocative slogans and attempted to pray although it is forbidden for Jewish people to do so at the site.
A number of Israelis and Palestinians were detained for violating the site's regulations since the first day of Passover. The clashes were first reported on Friday when Israeli settlers stormed the mosque and took a baby goat to the site to carry out a sacrificial ritual. Police managed to prevent the procedure by arresting at least seven people.
A number of arrests were also made this week.
"Israel Police escorted roughly 1,050 people to the Temple Mount, including 885 tourists and over 100 Israelis, and during the visit 13 were removed from the area for not behaving according to the security measures that were implemented," said Micky Rosenfeld, a police spokesman, the Jerusalem Post reported on Sunday.
"Police also had to move out of the area Palestinians who were chanting 'Allahu Akhbar', but no other incidents took place, and no one was injured or arrested," he said.
On Tuesday ultra-nationalist Israelis allegedly beat up the site's guards and threatened to slaughter them, according to local media.
"Israeli settlers stormed Al-Aqsa Mosque this morning under the protection of the Israeli police. They beat the guards and threatened to slaughter them," spokesman of the Public Relations Department in the Jerusalem Islamic Awqaf Firas Al-Dibs said as quoted by Middle East Monitor.
According to the spokesman, the settlers said "we will slaughter you during our festivals instead of goats".
Prime Minister Benjamin Netanyahu announced last week Israel would heighten security around the site during Passover in order to prevent "riots."
"As Passover approaches, all sorts of extremists will spread lies about our policy concerning the Temple Mount," he said.
On Sunday in a statement given to Petra news agency, Jordan's Sate Minister for Media Affairs condemned the storming of the Al-Aqsa mosque by Israeli settlers and police, saying that such actions are a violation of international law and will lead to serious consequences. He demanded that Israeli security forces immediately halt such practices and deny entry to Israeli settlers approaching the site, and called for the removal of Israeli security forces from the area.
You can share this story on social media: