'I have difficulty understanding it': Erdogan wants to mend ties with Russia, but doesn't know how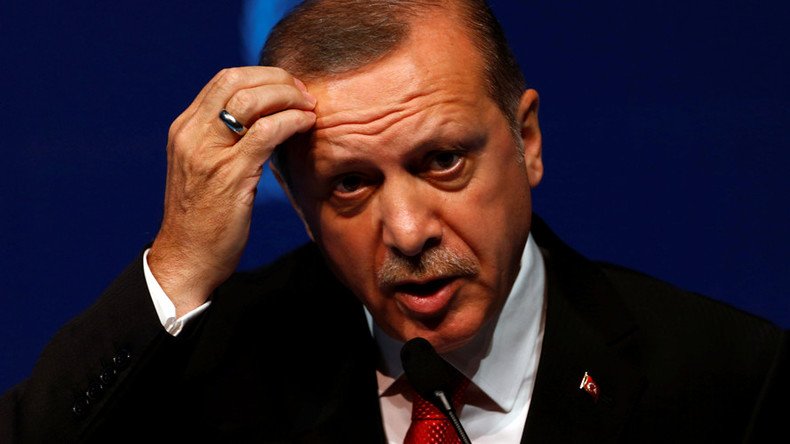 Turkish President Recep Tayyip Erdogan has said his country wants to "normalize relations with Russia," but appeared bemused as to how to actually bring that about.
Speaking at a press conference in the Turkish city of Izmir on Tuesday, the president wondered "how it happened [that] President Putin sacrificed very good relations between the two countries to just one mistake made by an air pilot."
Referring to last year's incident, when a Turkish F-16 jet downed a Russian Su-24 bomber involved in an anti-terrorist operation near the Turkish-Syrian border, Erdogan said that he was at a loss as to how to heal the consequent damaged relations.
"I am wondering what first step Russia expects from us, I have difficulty understanding it," he said.
READ MORE: 'It showed Turkey is big': Poll says over 50% of Turks think downing Russian jet was 'right'
Relations between the two nations have been frosty since the military plane was shot down. Ankara claims that the Su-24 had violated its airspace – an allegation that Moscow has repeatedly denied. The Russian military insists that the aircraft was shot down over Syria and attacked from behind, prompting the Foreign Ministry to demand an apology from Ankara. Economic sanctions have been introduced against Turkey as well.
"We have said that Turkey must present apologies and compensate the losses inflicted as a result of… this military crime," Foreign Minister Sergey Lavrov said in an interview with Russia's KP daily on Tuesday.
Saying that Turkey has suffered the most since relations between the two countries soured, Russia's top diplomat revealed that Ankara has been trying to approach Moscow "through various closed channels" to offer cooperation.
READ MORE: Turkish prosecutor drops charges against alleged killer of Russian pilot
Erdogan's statements followed similar remarks made earlier on Monday by his deputy prime minister, who hopes to start a dialogue with Moscow. "Neither Russia nor Turkey can afford to sacrifice their relationship with each other," Numan Kurtulmus told journalists, adding that he believed that ties "can be fixed in a short while." The official also claimed "Ankara had no idea whose bomber" it had attacked at the time of the downing.
You can share this story on social media: