'It showed Turkey is big': Poll says over 50% of Turks think downing Russian jet was 'right'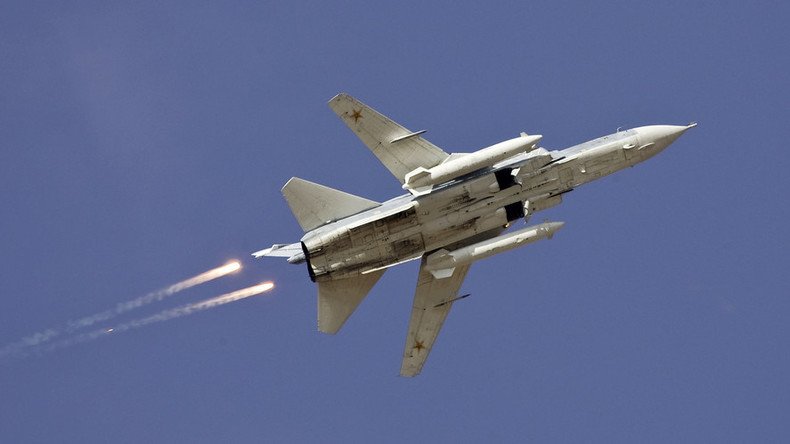 A worrisome new Turkish survey has revealed that more than half of respondents nationwide believe their government was right to shoot down a Russian jet bombing terrorists on Syria's border in November. The reason? "It showed Turkey is a big country."
Over 58 percent of Turks surveyed said shooting down Russia's jet was the right thing to do, Hurriyet Daily News reported. Meanwhile, 41.8 percent disagreed, saying that it was the wrong move.
The survey was conducted by Kadir Has University's Turkish Research Center.
More than a half of those supporting the downing said that it demonstrated to the world that Turkey is "a big country."
Meanwhile, about a third of those disagreeing with the decision said that Turkey's response had been "disproportionate."
A Turkish F-16 fighter jet ambushed and downed a Russian Su-24 bomber taking part in anti-terrorist operations in Syrian airspace on November 24, 2015. One of the pilots was shot dead from the ground after ejecting, allegedly by Turkmen militants fighting Syrian government troops.
The rescue operation for the surviving pilot was successful, but a marine from the rescue party was killed by militants, who also damaged and later destroyed a Russian Mi-8 transport helicopter that malfunctioned and had to land.
Russian-Turkish relations have been frosty ever since the incident. Making matters worse, Ankara has never apologized for its actions, insisting that the Su-24 had violated its airspace – a charge Russia denies.
Turkish authorities have never sought to prosecute the ultranationalist leader who bragged about gunning down the Russian pilot while he was still in mid-air. The shooter, identified as Alparslan Celik, a Turkish citizen, was recently released him from custody after first appearing on unrelated charges.
READ MORE: Turkish MP tweets of 'downing another Russian plane' over basketball match outcome
Russia introduced a set of economic measures against Turkey after the attack, which restrict Turkish business activities in Russia and ban employment to Turkish citizens. Russia also cancelled all charter flights to Turkey, cutting the number of Russian tourists to Turkey tenfold.
In addition, a ban on practically all Turkish food imports has been put in place, with Russia's agriculture watchdog, Rosselkhoznadzor, announcing plans last week to halt imports of fruit and vegetables from Turkey.
Meanwhile, Turkish officials have been criticized for being insensitive and even boasting of Ankara's actions.
An MP from Turkey's ruling AKP party, Samil Tayyar, suggested "downing another Russian plane" in a tweet when a Turkish basketball team lost to a Russian team in a major game.
"Another Russian jet should be dropped," Samil Tayyar posted on Twitter after Islanbul's Fenerbahce basketball team's 101-96 overtime loss to Moscow's CSKA in the Euroleague final, which took place a week ago. The politician later said he was only joking.
Meanwhile, Turkish President Recep Tayyip Erdogan has repeatedly vowed not to apologize for the incident.
You can share this story on social media: