9 quick facts about Russian Su-24 jet downed by Turkish Air Force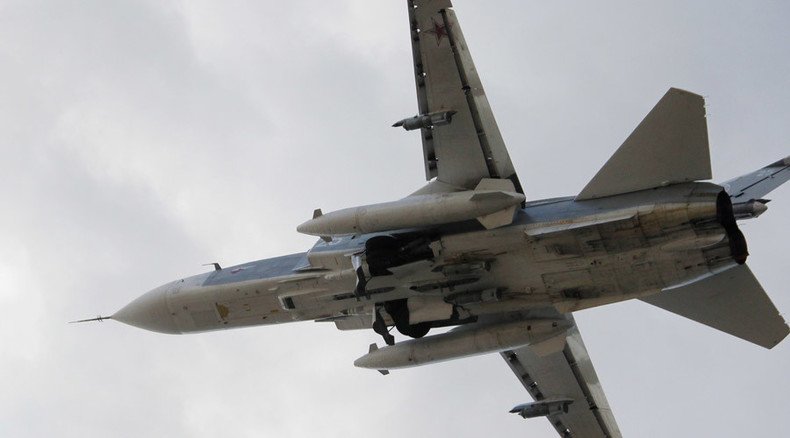 A Russian Su-24M tactical bomber was brought down over Syria by a Turkish Air Force fighter jet on Tuesday. Moscow and Ankara have put forward conflicting versions of what happened, and the circumstances of the crash remain under investigation. This is what is known so far.
LIVE UPDATES: Russian warplane shot down at Syria-Turkey border
1. The Russian jet went down at 9:30am local time on Tuesday
"Today at 9:30 the Russian aircraft, which performed combat counterterrorist missions was shot down by an aircraft of the Turkish Air Force," Russia's Ministry of Defense wrote on its official Facebook page.
The ministry added that it considers the action of the Turkish Air Force to be an "unfriendly act."
2. It crashed in a rebel-held area in Syria
The Russian jet landed in Syrian territory controlled by ethnic Turkmen.
Around 2,000 Turkmen are believed to be fighting the forces of Syrian President Bashar Assad as part of the Free Syrian Army (FSA), according to Syrian Turkmen Assembly head Abdurrahman Mustafa, as cited by Bloomberg.
3. One pilot was saved, one was killed
Navigator Konstantin Murakhtin managed to survive the incident after ejecting from the aircraft. He was brought to the Russian air force base in Latakia after a 12-hour rescue mission. Captain Sergey Rumyantsev, who also ejected from the aircraft, was killed.
"The pilot (Murakhtin) was brought to the base overnight. We saw each other in the morning during breakfast. At least visually he looks fine. Doctors said that his health is out of danger," said RT's Roman Kosarev, who was the first journalist to speak to Murakhtin.
READ MORE: One of 2 Russian pilots shot down by Turkey rescued, back to airbase in Syria
4. Turkmen rebels said that they killed the pilots while they were parachuting
A deputy commander of the Turkmen brigade in Syria claimed to have shot and killed both pilots while they were parachuting. Despite the claim, Captain Konstantin Murakhtin was rescued and is recovering well.
A video posted online reportedly showed a Russian pilot lying on the ground surrounded by a group of men praising Allah.
5. Turkey says the plane violated its airspace, 10 warnings were sent
In a letter to the UN which was leaked online, Turkey claimed that it had issued warnings to the two jets 10 times in five minutes before the F-16s fired air-to-air missiles were fired at the aircraft. The letter said that the planes, the nationality of which was unknown, had approached Turkish airspace near the town of Yayladagi in Hatay province.
"Following the violation, plane 1 left Turkish national airspace. Plane 2 was fired at while in Turkish national airspace by Turkish F-16s performing air combat patrolling in the area. Plane 2 crashed onto the Syria side of the Turkish-Syrian border."
The same letter says that the downed jet was only in Turkish airspace for 17 seconds.
In statements made following the incident, President Recep Tayyip Erdogan said that Turkey was exercising its right to protect its borders: "Turkey does not want to escalate this incident. Turkey only defended its [border] security and its brothers' rights."
6. Russian pilot says jet wasn't in Turkish airspace, no warnings were received
According to Ankara, the Russian jet was hit in Turkish airspace after it failed to respond to warnings. However, rescued pilot Captain Konstantin Murakhtin insists that his plane did not cross into Turkey's airspace, and said he was given no visual or radio warning before being fired at.
"It's impossible that we violated their airspace even for a second," Konstantin Murakhtin told RT. "We were flying at an altitude of 6,000 meters in completely clear weather, and I had total control of our flight path throughout."
Russia maintains that the jet had been in Syrian airspace when it was shot down.
7. Turkey accused of violating Syria's sovereignty
Russia's General Staff, commenting on the incident, said that it was actually a Turkish jet that went after the Su-24 violating the Syrian airspace.
Syrian Foreign Minister Walid Muallem also said the incident shows that Turkish President Recep Erdogan and his government are "helping terrorists in Syria," adding that Turkey violated Syria's sovereignty by attacking the jet in its airspace.
"The effort to destroy the forces of Islamic State (IS, formerly ISIS/ISIL) and other terrorist groups offended Turkey. That is why they aggressively violated Syria's sovereignty and attacked the Su-24 in its airspace," Muallem said.
8. Turkey immediately called its NATO allies
According to the Russian Defense Ministry, one of Turkey's first moves following the incident was to call its NATO allies while ignoring Russia's requests for communication. The alliance expressed support for Turkey.
"We stand in solidarity with Turkey and support the territorial integrity of our NATO ally, Turkey," NATO Secretary-General Jens Stoltenberg said after an emergency meeting.
However, an insider source told RIA Novosti that "a number of representatives" of the alliance's member countries "reacted very cautiously" to the Turkish complaints.
9. Russia suspects planned provocation
Russian Foreign Minister Sergey Lavrov said that the downing of the Russian jet appears to have been a premeditated provocation.
"We have serious doubts that this act was unintentional. It looks very much like a preplanned provocation," Lavrov said. He went on to cite Turkey's failure to maintain proper communication with Russia, the abundance of footage of the incident, and other evidence.
READ MORE: Downed in 17 seconds? Where Turkey's story of Su-24 violating airspace just doesn't add up
Lavrov is not the only person making such speculations. Former Vice Chief of Staff of the US Air Force, Lt. Gen. Tom McInerney, told Fox News: "This airplane was not making any maneuvers to attack the territory...it was probably pressing the limits, that's fair. But you don't shoot 'em down just because of that."
"I don't really trust President Erdogan in what he is doing," he added. "I think it was an overly aggressive maneuver and at NORAD [North American Aerospace Defense] command region we would not use this kind of rules of engagement. That had to be preplanned."
You can share this story on social media: