Turkey violated Syria sovereignty by attacking Su-24 in its airspace – Syrian FM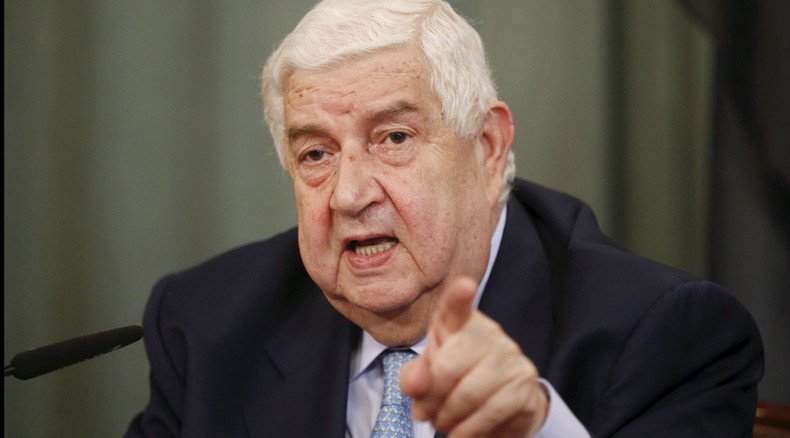 The downing of the Russian warplane, which aggressively violated Syria's sovereignty, is proof to the world of Turkish support for terrorism. This has been going on for years, the Syrian foreign minister said.
LIVE UPDATES: Russian warplane shot down at Syria-Turkey border
"This incident has shown the world that [Turkish President Recep] Erdogan and his government are helping terrorists in Syria," Walid Muallem said after meeting Speaker of the Russian Parliament Sergey Naryshkin.
Muallem expressed his condolences over the death of the Russian pilot and later a marine in the incident.
"We express our condolences over the actions of those terrorists, who Erdogan and his government support, who opened fire at the pilot as he was parachuting down. It was no less than a war crime," he said.
"We are glad that the joint Russian-Syrian military operation resulted in a rescue of the second pilot," he added.
Naryshkin said the attack on the Russian plane did not reflect what the Turkish people want from its leadership.
"We believe this act was treason by the Turkish leaders against their own people," he said.
Turkey deliberately attacked the Russian warplane in revenge for the Russian antiterrorist campaign in Syria, according to the Syrian minister.
"The effort to destroy the forces of Islamic State [IS, formerly ISIS/ISIL] and other terrorist groups offended Turkey. That is why they aggressively violated Syria's sovereignty and attacked the Su-24 in its airspace," Muallem said.
He added that the results of the Russian campaign contrast the lack of progress demonstrated by the US-led coalition, including Turkey.
"In 18 months the US and its allies have conducted around 6,000 strikes against the terrorists, but they failed to undermine IS capabilities. On the contrary, they became stronger," the Syrian diplomat said. "What the Russian [Air Force] do in Syria is a hundred times more than the actions of the US and its allies."
Russia branded Turkey an accomplice of terrorism after the incident. Moscow believes Ankara wants to protect terrorist groups to continue the flow of cheap oil into the country, which profits some Turkish officials and the jihadists. While Moscow continues an effort to form a global coalition to fight against terrorism in the region, it believes the Turks won't commit to it.
LISTEN MORE:
You can share this story on social media: