France to take urgent action as transport unions strike 11 days prior to Euro 2016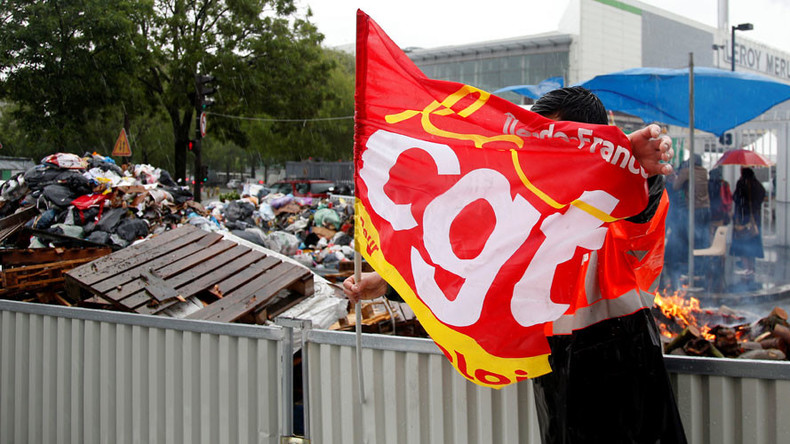 The French government has opened its check book in an attempt to cool labor disputes that have flared up due to proposed reforms, with trade unions promising to shut down transport networks just 11 days before the country is to host the Euro 2016.
Though President Francois Hollande has refused to give up on the labor bill that has already prompted violent ongoing protests, the French government said on Tuesday that it has decided to ask France's state-owned railway company, SNCF, to draw up reorganization proposals to be considered by labor unions next week.
Read more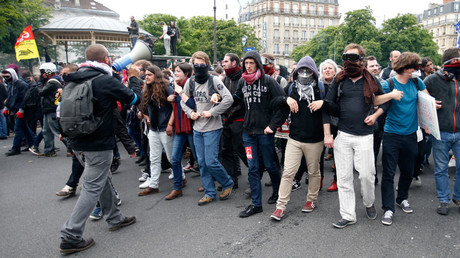 The powerful CGT trade union, which recently called for a railway strike, has threatened to paralyze Paris' transport system, as well as those in other cities, starting on Tuesday at 8:00 pm local time. Nearly 40 percent of the country's high-speed TGV trains and 60 percent of intercity trains will have to be cancelled due to the work stoppage, SNCF said.
An enduring strike would likely wreak havoc on the Euro 2016, which is set to start on June 10, bringing nearly 2.5 million tourists to France.
Despite the possible transport collapse, the biggest threat to the Euro 2016 soccer tournament "remains terrorism," Hollande said in an interview with Sud-Ouest newspaper, stressing that there will be no changes to key provisions of the labor bill.
However, French ministers have expressed hope that, though the president intends to go through with the reform, he will manage to fend off a prolonged CGT strike if its chief, Philippe Martinez, agrees to come to the negotiating table.
"We've been hearing in the last few hours that Mr. Martinez is saying 'Let's talk,'" Labor Minister Myriam El Khomri told RTL radio. "I am waiting for proposals from the CGT."
Read more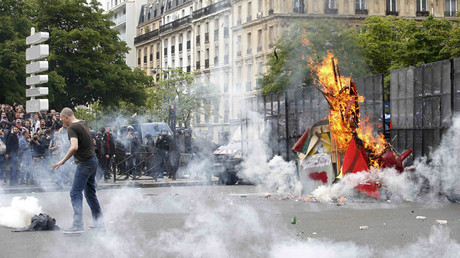 Meanwhile, Prime Minister Manuel Valls's government has unveiled a plan to inject €1 billion (over $1.11 billion) into France's education system that will be particularly aimed at improving the salaries and working conditions of teachers, local media reported.
The process will be rolled out in stages through 2019, with the first €500 million coming into play in January of next year. In order to make "the profession more attractive," a teacher in France will have an additional €23,000 at their disposal come retirement time under the changes, France's education minister, Najat Vallaud-Belkacem, said, according to Le Monde.
The education initiative also involves introducing a "senior" rank for the most accomplished teachers, who will be rewarded with much higher pay hikes.
The goal is to "bring France above the OECD average when it comes to teacher salaries," the minister said.
However, many see the move as an attempt by Hollande to win back the support of education workers, who voted for him en masse in 2012, but have become disappointed over the years. Although Hollande still hasn't announced whether he will run for a second term in 2017, backing from teachers would come in handy if he does.
In another concession, plans to cut research spending and unemployment insurance for performing artists were also dropped, the government said.