'French govt vs trade unions: can Euro-2016 be derailed?'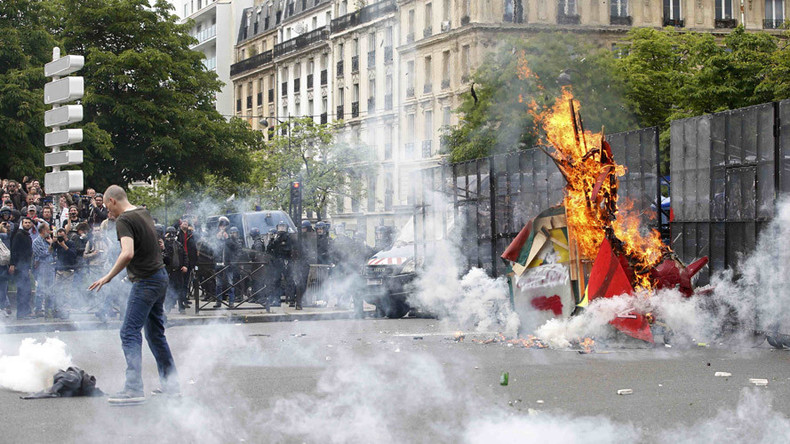 Both authorities and trade unions in France have their point in the conflict, says Pierre Schweitzer, political analyst and author adding that most of the French oppose the new labor law but at the same time do not approve of the way trade unions are taking action.
A labor union in France is threatening to disrupt the Euro-2016 football championship, which is to kick off in June. The threat is the latest bid to scupper a controversial labor reform bill.
RT:Can the Euro-2016 championship be derailed by the threatened action?
Pierre Schweitzer: I think it might be. It will all depend on the union's attitude. But they definitely have the means to disrupt the event. Hopefully things will go in order before that.
RT:We're locked in a stalemate. The protests are intensifying, but the government's not budging. Where's this all heading?
PS: It's hard to say. From my experience on previous battles I would say that the government is probably going to backup and give the unions what they want. But as we're in the end of the presidential mandate the government knows that it is their last chance. So they will try to continue this arm-wrestling and probably will take action and withdraw the project.
READ MORE: Chaos, uncertainty & anger: 5 ways anti-labor reform protests disrupt life in France
RT:Both the unions and the government claim to have public opinion on their side. Who' right in this situation?
PS: No one is exactly right. It is true that the public opinion is as a majority opposes to this labor law. But at the same time they also oppose the way the trade unions are leading and taking action, blocking everything and harming the economy. Both have a point here.
READ MORE: French union warns of disruption to Euro 2016 soccer cup unless govt backs down on labor reform
RT:The prime minister's called the unions a minority. Is that accurate given the scale of the protests?
PS: Well, do not be fooled by the violence of the protests. They are violent, but there are not that many people there and the trade unions in fact are a very, very small minority. I have figures to prove that: only six to eight percent of wage earners in France belong to a trade union. Among these trade unions the one that is blocking the country right now represents part of this six to eight percent of wage earners. And I'm not talking about people who work on their own – they are a minority indeed.
The statements, views and opinions expressed in this column are solely those of the author and do not necessarily represent those of RT.