Chaos, uncertainty & anger: 5 ways anti-labor reform protests disrupt life in France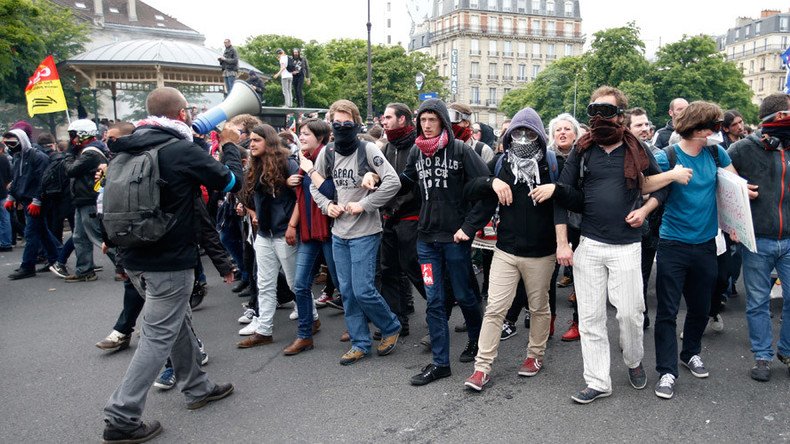 France has been shaken by daily violent rallies for months now and is facing a fuel crisis and a strike by nuclear industry workers as well. Here's a closer look at what the highly unpopular labor reforms proposed by the French government have wrought.
1. Violence & destruction
Demonstrations that were initially organized as peaceful protests against a reform proposed by Labor Minister Myriam El Khomri have been turning more and more violent and aggressive. Since the middle of March, the protesters have been hurling stones and smoke bombs at police, who have, in turn, used water cannons and tear gas to disperse the crowds.
Almost every rally has seen arrests, with dozens injured, including both activists and police. Members of the media covering the rallies have also been hurt during the violent confrontations.
Cars have been torched, windows smashed, and buildings vandalized as well.
2. Gas stations out of work
At least 5,343 of France's 10,245 gas stations have been closed due to strikes by refinery workers, according to Essence application, which publishes a list of unavailable stations live. The application has been highly popular in recent days.
"The current escalation goes beyond what is acceptable in a protest movement," the Confederation of Small and Medium Enterprises ( CGPME) said in a statement on Facebook posted on Wednesday.
Pascal Barre, who runs a logistics firm in Poincy, east of Paris, told AFP, "It's beginning to get to a critical point."
However, a spokesman for France's transport ministry said on Friday that the situation is improving and only one fuel depot is currently blocked.
3. Nuke energy vulnerable
Workers in one of the most hazardous areas of industry – nuclear power – have also taken to the streets across France in protest of the labor reform.
On Thursday, employees from at least 19 out of France's 23 nuclear power plants voted to strike, according to Reuters. One of the most violent rallies took place at the Nogent-sur-Seine nuclear plant, where workers set barricades alight on the two roads leading to the plant.
The nuclear plant is now working below capacity, with one of the towers operating at just 30 percent capacity and the other at 50 percent. It is not yet clear if it had begun producing at full capacity by Friday.
4. Strike at second-biggest oil port
On Thursday, the port city of Le Havre in northern France saw thousands of dock workers take part in a mass protest in which they set off smoke bombs, saying that it was too late to compromise with the government. In the meantime, Valls insists that the controversial bill that has caused so much anger amongst students and the labor sector can't be withdrawn.
"Valls is hardening his tone? Well we're hardening our tone too!" an organizer was heard shouting into a loudspeaker at the Normandy Bridge.
The strike at the Le Havre oil terminal has been extended until Monday, the organizers told Reuters. "If the government does not budge, we are ready to take it to the end," Mathias Jeanne, a CGT official, said.
5. Euro-2016 under threat
The long-awaited Euro 2016 football tournament may also be disrupted due to the protests. It is scheduled to kick off in June of this year at various stadiums throughout France, including Bordeaux, Lyon, Marseille, Nice, and Paris – where violent anti-labor reform rallies are currently taking place.
The hardline General Confederation of Labour (CGT union) warned on Thursday that the UEFA European Championship (known as Euro 2016) would only take place if Paris agrees to back down on passing its highly contested labor reform la
You can share this story on social media: