'Human remains everywhere': Family of 11 killed in alleged Saudi coalition strike in Yemen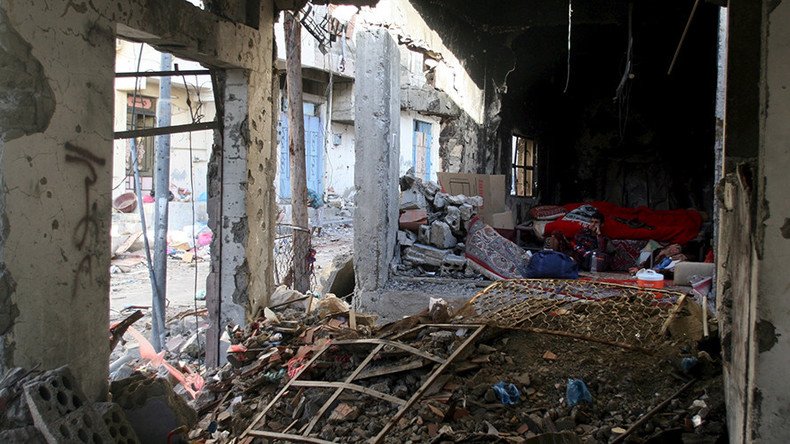 Eleven members of one family, including at least four children have been killed in an airstrike, presumed to have been carried out by the Saudi-led coalition, witnesses and officials said, adding that a small girl was the sole survivor of the strike.
The incident took place in the town of el-Mahala, Lahj province in southwestern Yemen. The plane thought to belong to the United Arab Emirates fired two missiles at the house of the family of 12, local media and AP reported, citing witnesses and officials.
One child – a little girl – survived the strike. Pictures allegedly showing her among the ruins of her house have flooded the internet, along with photos of her dead relatives.
"The bodies were distorted and human remains were everywhere," Ahmed Hadash, a local witness, told AP, adding that the warplanes were flying for 40 minutes with explosions heard during all that time.
According to an unnamed official, the house of the family was adjacent to a house where Islamic State (IS, formerly ISIS/ISIL) terrorists resided.
READ MORE: Dozens feared killed as coalition forces strike market in Yemeni capital (VIDEO)

The governor of Lahij, Naser al-Khoubeigi called on the Yemeni government to launch an investigation into the incident.
"We know nothing about the attack. The coalition conducts attacks without informing us. The responsibility of this operation is on those who provide the coalition with the wrong coordinates," he said.
Another security official told AP on condition of anonymity that the Saudi-led coalition repeatedly stages such strikes and even put people they accuse of being members of Al-Qaeda and IS affiliates in Yemen in "their own prisons."
READ MORE: 'Senseless & diabolical': Pope shocked by slaughter at elderly home in Yemen

Thousands of civilians have been killed in the war between the Saudi-led military coalition and the Houthis, a Yemeni rebel group, since Riyadh unleashed an air campaign intervening in a pre-existing internal conflict in March 2015.
In February, the UN said over 700 children have been among the casualties since the start of the Saudi-led coalition intervention. It added that some 6,000 people have been killed, many of them civilians.
READ MORE: Saudi Air Force struck Yemeni marketplace with US bombs – HRW
In January, a UN panel set up to investigate the bombings in Yemen reported to the Security Council that it had uncovered "widespread and systematic attacks on civilian targets by Saudi Arabia." According to an investigation carried out by Human Rights Watch (HRW), the Saudi-led coalition has also been using cluster bombs in its attacks on Yemen, weapons that are banned in populated areas
You can share this story on social media: