Dozens feared killed as coalition forces strike market in Yemeni capital (VIDEO)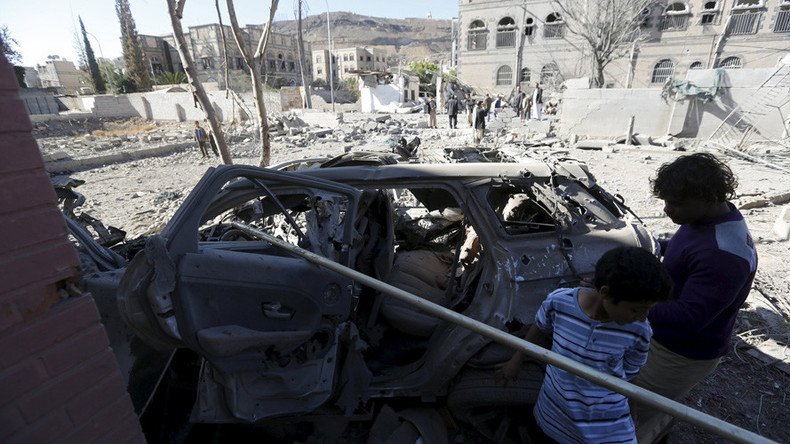 Up to 45 people are feared killed in Sanaa, Yemen, after airstrikes reportedly carried out by the Saudi-led Arab coalition hit a market in the northeast of the city.
There have been conflicting reports regarding the number of casualties.
At least 30 people, mostly civilians, were killed in the airstrikes that targeted Shiite fighters but hit a market area in the Nihm district near the capital, AP reported, citing Yemeni security officials. Body parts were strewn across the area, said officials, who spoke on condition of anonymity.
About 45 civilians were killed in the market, Xinhua news agency reported, citing residents.
WARNING: GRAPHIC VIDEO BELOW
"Several Saudi-led airstrikes directly struck people gathered in a crowded market in Nehm district of Sanaa province and killed about 45 civilians while 50 others were injured at the scene," a resident in Sanaa told Xinhua by phone.
Reuters reported 40 deaths and 30 wounded, citing locals.
Arab coalition forces led by Saudi Arabia have been fighting Houthi forces in Yemen, who are allied with Iran. Backing Yemeni government forces, the coalition has been providing air support for troops involved in fierce confrontations on the ground with Shiite Houthi fighters in a number of areas in and near Sanaa.
Since the coalition's involvement began almost a year ago, some 6,000 people have been killed, many of them civilians.
READ MORE: UN 'conservative estimates' show 700 children among 6,000 Yemen fatalities
In January, a UN panel set up to investigate the bombings in Yemen reported to the Security Council that it had uncovered "widespread and systematic attacks on civilian targets by Saudi Arabia." According to an investigation carried out by Human Rights Watch (HRW), the Saudi-led coalition has also been using cluster bombs in its attacks on Yemen, weapons that are banned in populated areas.
Earlier this week it was reported that the European Parliament has adopted a resolution calling for the introduction of an arms embargo against Saudi Arabia over its operation in Yemen.
You can share this story on social media: