Saudi Air Force struck Yemeni marketplace with US bombs – HRW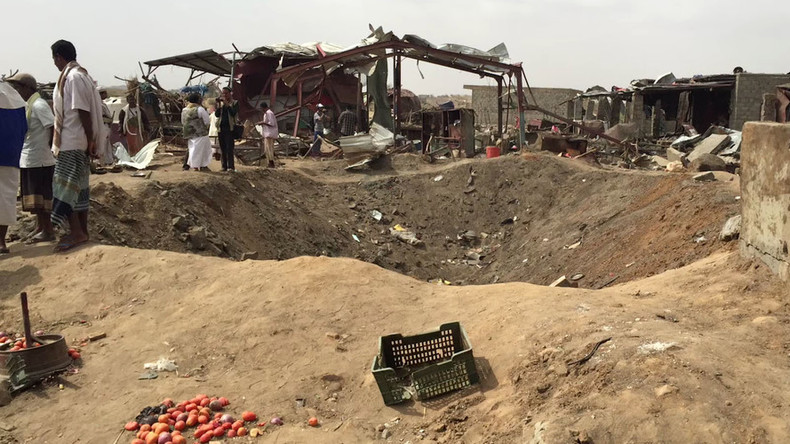 Two bombs dropped by the Saudi Arabian Air Force on a crowded marketplace in Yemen on March 15 were American-made, claims Human Rights Watch (HRW). The UN estimates the death toll to be at least 97 dead, among them 25 children.
HRW examined the bomb blast fragmentations found at the site and determined they came from a US-made "GBU-31 satellite-guided bomb, which consists of a US-supplied MK-84 2,000lb bomb mated with a JDAM satellite guidance kit, also US-supplied," HRW's report says.
Since the beginning of the airstrikes of the Saudi-led anti-Houthi coalition in March 2015, there have been 12 airstrikes inflicted on marketplaces throughout Yemen.
HRW calls on to the US to stop selling weapons to Saudi Arabia until Riyadh ends unlawful airstrikes.
"One of the deadliest strikes against civilians in Yemen's year-long war involved US-supplied weapons, illustrating tragically why countries should stop selling arms to Saudi Arabia," said Priyanka Motaparthy, emergency researcher at HRW.
Mastaba, a village in Yemen's northern Hajja governorate, some 45km from the Saudi border, was attacked at noon. Two bombs were dropped successively with a short period. The first blasted right in front of a complex of shops and a restaurant, the second exploded a short while later near the entrance to the market, within the crowd fleeing the airstrike, HRW reports.
The airstrike in Mastaba reportedly also killed 10 Houthi rebel fighters, making the attack absolutely unprecedented in military-to-civilian death ratio, causing "disproportionate loss of civilian life, in violation of the laws of war."
The UN children's agency UNICEF put the death toll of Mastaba airstrikes even higher, proclaiming 119 people among dead, 22 children included.
Out of two local hospitals, a clinic supported by Doctors Without Borders (MSF) received 45 wounded civilians from the market.
Since March 2015, the conflict in Yemen has claimed lives of about 6,300 people, over a half of them civilians, according to the UN estimates. Most of the people killed in Yemen died in Saudi-led coalition air strikes.
The next day after the deadly airstrike, the Saudi military spokesman for the coalition, General Ahmad al-Assiri, said the coalition attacked "a militia gathering," saying though, that the airstrike site had been known as a place to buy qat, a mild stimulant plant widely chewed in Yemen, which means the coalition knew the airstrike hit a commercial area.
On March 18, al-Assiri told Reuters that targeting Mastaba site the coalition used reconnaissance information from Yemeni forces loyal to ousted President Abdu Rabbu Mansour Hadi and that the Houthis "deceived people by saying it was a market."