Crimean Tatars: Ukraine 'long neglected' our problems, hampered rehabilitation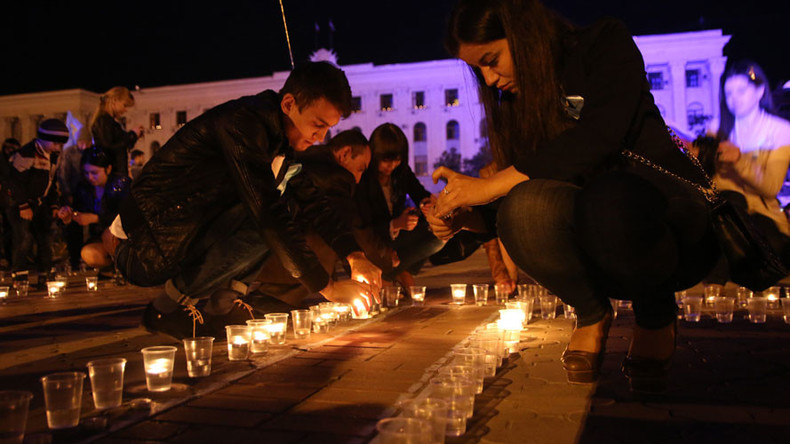 Ukraine has neglected Crimean Tatars' problems for years and has hampered their political rehabilitation, representatives of the ethnic minority said in a statement as Crimea remembered the 72nd anniversary of the 1944 deportation of Tatars at Stalin's decree.
"Our people are angered at attempts to put outside pressure on us to drive a wedge between ethnic groups and stir up civil feuds," the Crimean Tatar community said in a statement on Wednesday, signed by more than 20 public organizations. The statement, cited by RIA Novosti, adds that some ethnic Crimean Tatars now living in Ukraine "have opted for a wrong political course."
"They have divided us, but what is most dangerous is that they crossed the line by calling on our children and grandchildren to join paramilitary groupings to make military incursions into Crimea using Islam as an ideological weapon," it said, apparently referring to Lenur Islyamov, a self-proclaimed Crimean Tatar radical leader and coordinator of the peninsula's land blockade.
Previously, Islyamov said there are "more than 100 people" ready to form a "Tatar battalion" whose task would be to "protect the Crimean frontier" and launch guerrilla attacks inside the peninsula. Islyamov slammed Ukrainian authorities for their reluctance to support the "battalion" and claimed that the Turkish military already contributes to its activities.
Ukraine itself, the Crimean Tatars' statement added, has long hampered their political rehabilitation and has failed to meet the people's needs.
"For 25 years, those forces [Ukrainian authorities] prevented any of our important problems from being solved, let alone the issue of political rehabilitation." After Crimea's re-unification with Russia, the situation has changed: "Today, we do fully feel as a united people living in its historic homeland."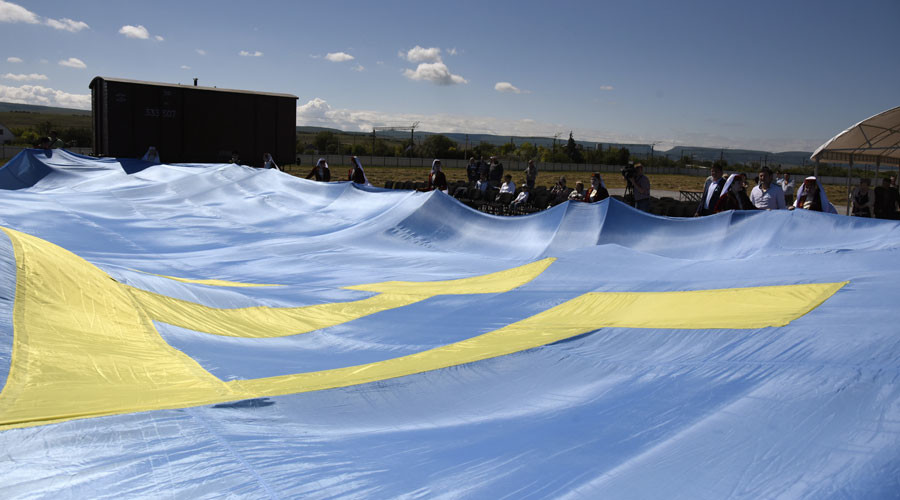 A series of commemorative events that began in Crimea on Wednesday to remember the 1944 forcible deportation of Crimean Tatars included starting work on a new memorial site.
The memorial site to the 1944 deportation is located in the southern part of Crimea, and is being built near to the railway station of Siren, where over 70,000 Tatars were loaded into cattle trains and deported to Central Asia, mostly Soviet Uzbekistan.
A symbolic cattle wagon, representing the tragedy, is part of a wider memorial installation worth 400 million rubles (US$6 million) in total, Crimea's premier Sergey Aksyonov told journalists on Wednesday. He emphasized that such a situation must never happen again, promising Crimean Tatars full support from the regional government to meet their needs.
In Ukraine, where the deportation is officially referred to as "genocide," ethnic Crimean Tatars staged a rally accusing Russia of "persecuting" the ethnic minority and "violating human rights" in the peninsula after what they called the "annexation of Crimea," local media reported.
Earlier on Wednesday, Ukrainian President Petro Poroshenko acknowledged that Kiev "was late" to establish national autonomy for the Tatars in Crimea while "fully ensuring" rights and freedoms of ethnic Ukrainians, Russians and other minorities. He also called on the Ukrainian parliament to amend the constitution with a paragraph mentioning the "inalienable right of Crimean Tatar people for self-determination."
Crimea was occupied by Nazi troops early on during World War II after a series of bloody battles, and remained under German control until May 1944. Many Tatars were accused of deserting from the Red Army during the first months of the war, as well as full-fledged collaboration with the Nazi occupational authorities.
In May 1944, around 188,000 Crimean Tatars were forcibly deported from the peninsula under Joseph Stalin's decree.
In April 2014, Russian President Vladimir Putin signed a decree officially rehabilitating the Crimean Tatars and other ethnic minorities on the peninsula, urging people to do everything possible to ensure "that as part of Crimea's integration into Russia, Crimean Tatars are rehabilitated and their historic rights restored."