Ukraine wins Eurovision 2016 with politically-charged song (VIDEOS)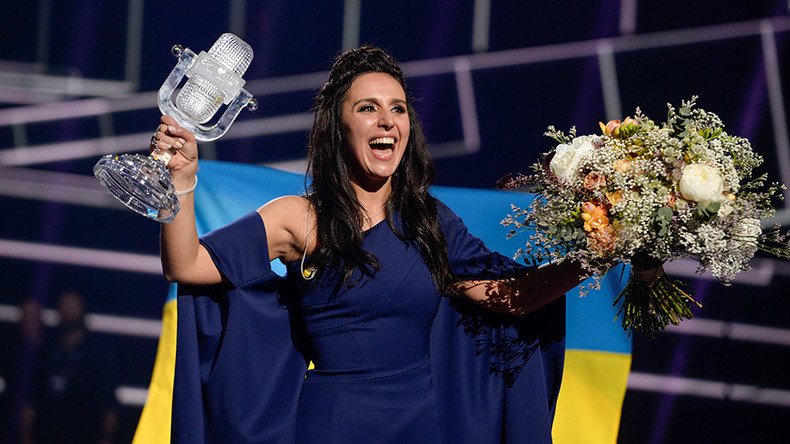 Ukrainian singer Jamala has won the 2016 Eurovision song contest with a controversial piece about Stalin's deportation of Crimean Tatars. Australian and Russian performers grabbed the 2nd and 3rd places respectively.
The song 1944 written and performed by Jamala, a Ukrainian singer of Crimean Tatar descent, was inspired by the story of her great-grandmother during the 1944 deportation of Crimean Tatars in the Soviet Union at the height of World War II.
Jamala was victorious in Stockholm, Sweden on Saturday, winning the international competition with 534 points to secure victory for her country. Australia finished second with 511 points, while Russia came in third with 491 points.
Before her final stage appearance, Jamala said winning would show that Europeans were "ready to hear about the pain of other people."
OP-EDGE: Ukraine's 'Song for Europe' violates the spirit of Eurovision
Ukraine's participation in Eurovision this year was highly provocative and politicized. Despite rumors that the song might be disqualified because of its political overtones, the Eurovision Song Contest Reference Group cleared it for the competition, claiming that neither the title nor the lyrics contained political speech.
While publicly maintaining that her song includes no political innuendo, Jamala admitted in a phone call with a famous Russian prankster that the words mean "more than one would think" and "definitely" contain a political message. However, if she had called the song 2014 instead of 1944, it would have meant immediately disqualification, and so, as Jamala told Lexus, who was posing as the Ukrainian minister of culture, they had to remain "wise and careful," so as not to reveal the song's "secret."
The head of the Ukraine's National Remembrance Museum said in February that if Jamala won the contest in Stockholm, next year's event would be held in Crimean Sevastopol. That might be a problem, considering that Crimea voted to secede from Ukraine and rejoin Russia in a referendum held in response to an armed coup in Kiev.
READ MORE: Ukraine picks song about Stalin purges as Eurovision entry
At the same time, for some, it would have been disastrous if Russia had won the contest, a Eurovision source told the Mirror earlier, revealing that "feeling is that the European Broadcasting Union know how unpopular a Russia win would be and will do everything possible to help the other favorites to victory."
Russia was in fifth position after the professional juries' vote, but when it came to the televote, European and Australian viewers clearly preferred the Russian song, and Sergey Lazarev got the best score.
Russia came third in the end.
You can share this story on social media: