Ukraine picks song about Stalin purges as Eurovision entry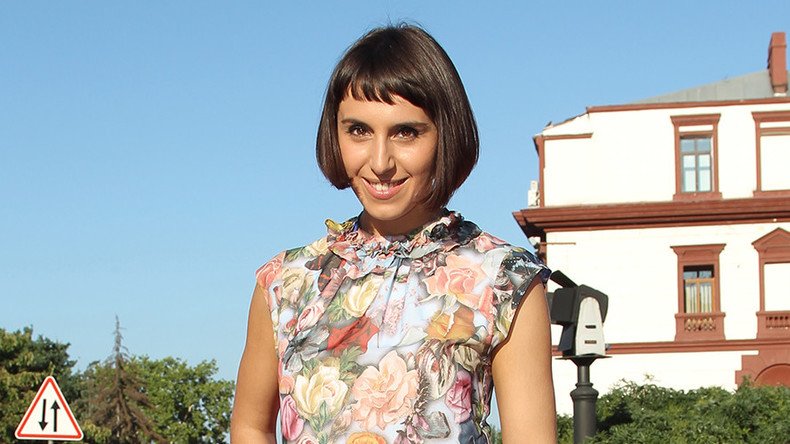 Ukraine is apparently courting trouble by choosing a song with politically loaded lyrics for the upcoming Eurovision contest, which explicitly bans participants from using the event for promoting any political agenda.
The song by Jamala called "1944" is dedicated to the deportation of Crimean Tatars by Soviet dictator Joseph Stalin. The singer was born into a mixed Tatar Armenian family and was inspired to write the lyrics by her grandmother's account of those tragic events, she told the media. A record number of over 300,000 Ukrainians voted in the national selection for the contest.
Jamala's performance opens with a blood-chilling description: "When strangers are coming, they come to your house, they kill you all and say, we're not guilty."
The words she wants to sing from the Stockholm Globe Arena stage in May apparently contradict the contest rules, which say: "No lyrics, speeches, gestures of a political or similar nature shall be permitted during the Eurovision Song Contest." Violation may result in disqualification.
Eurovision, which aims to build bridges between nations and steer away from politics, is increasingly struggling to stay within those boundaries. More often than not, however, political messages remain obscured and don't result in contestants being banned.
Armenia's entry for 2015 was criticized by some for alleged allusions to the Armenian genocide of 1915, which Turkey and Azerbaijan deny. The song "Face the Shadow" was originally called "Don't Deny" and used imagery that some believed alluded to the genocide. The song finished 16th overall.
Ukraine's 2007 Eurovision song "Dancing Lasha Tumbai", which came second alongside the Turkish entry, stirred a minor controversy because "Lasha Tumbai" sounded like "Russia goodbye". Drag queen Verka Serduchka, who performed the song, claimed the phrase was Mongolian for "whipped cream", but it is actually meaningless in the language.
The 2011 Portuguese entry "A luta é alegria", which translated as "The Struggle is the Joy", was adopted as an anthem of protest against austerity measures imposed by the country's government.
Politics is not the only reason Eurovision entries may get into trouble. "The Social Network Song", which represented San Marino in 2012, had to be changed so as not to mention Facebook. The contest's rules also forbid promoting commercial products.
Many of the songs, which were actually disqualified by Eurovision, were submitted too late or had previous commercial releases, which is not allowed according to the contest's rules. But there are exceptions as well. In 2009, Georgia withdrew from the Eurovision contest hosted by Russia after its song, "We Don't Wanna Put In", was deemed a veiled attack on Russian President Vladimir Putin by the organizers.
Ukraine's participation in Eurovision this year is a highly political issue. In February, the head of the country's National Remembrance Museum said that should Jamala win the contest in Stockholm, the next year's event would be held in Crimean Sevastopol.
Crimea voted in a referendum to secede from Ukraine and rejoin Russia in response to an armed coup in Kiev. The move is viewed as an illegal annexation by the current Ukrainian government and its foreign sponsors. The city council of Sevastopol, the long-time home base of Russia's Black Sea fleet, said the only way it could host Eurovision 2017 is if Russia win this year.
You can share this story on social media: