Ukraine's 'Song for Europe' violates the spirit of Eurovision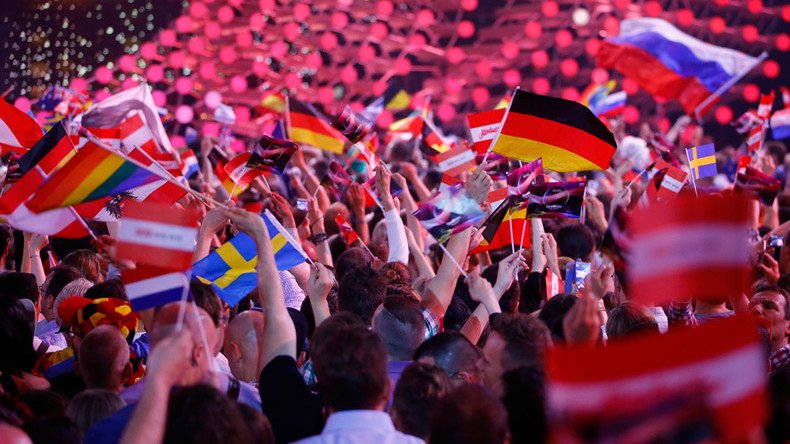 The propaganda war against Russia is waged on many fronts. Even, I regret to say, in an international song contest which is supposed to be above politics.
Ukraine has chose for its entry to this year's Eurovision Song Contest, '1944', a song all about the forced deportation of 240,000 Crimean Tatars ordered by the dictator Joseph Stalin in the 1940s.
Never mind the contest's rules which bans songs of an overtly political nature; never mind the fact that Stalin was not the leader of Russia but the Soviet Union, and that he was a Georgian and not a Russian. Despite all that, let's use Eurovision to engage in some crude Russia-bashing, shall we? I'm sure George Soros, uncrowned King of Ukraine, approves heartily.
'1944' opens with the chilling description: "When strangers are coming, they come to your house, they kill you all and say, we're not guilty."
"I had to write it. It is a memorial song and it is difficult for me to sing it," says the singer Jamala, aka Susana Jamaladinova, who was born into a mixed Tatar-Armenian family.
I'm old enough to remember the time when Eurovision songs were upbeat and designed to make us all feel happier.
"There will be no sorrow, when you sing tomorrow," went part of the lyrics by the Dutch winning entry 'Ding-a-dong,' performed by Teach-In back in 1975. But Jamala is no Getty Kaspers, the lead-singer of Teach-In. Her song is meant to distress us and to turn us against Russia.
There's quite a few good reasons to get angry over what Ukraine has done - especially if, like me, you are a long-standing Eurovision fan who's been watching the event since the 1970s. The provocative, politically-motivated decision to chose '1944' as their 'Song for Europe' goes against the whole spirit of Eurovision.
The contest, which celebrated its 60th birthday last year, was supposed to bring the peoples of Europe together, not remind us of historical injustices and ignite geopolitical rows.
Eurovision started in 1956, when the horrors of WW2 were a very recent memory. But rather than live in the past, Eurovision in its early years was all about looking forward. When historical events were mentioned it was not for political reasons.
When Johnny Logan performed 'What's Another Year', the winner in 1980 for Ireland, he wasn't singing about the Anglo-Irish Troubles, but about people coming to terms with the death of their nearest and dearest.
Jamala, by contrast, is simply politicking. The place for that is on the Larry King show, Ms Jamaladinova, not at Eurovision.
Just imagine if other countries entered their own versions of '1944'? Believe it or not, it's not just Ukrainians - or Crimean Tatars - who have had some very bad things done to them in the past.
The Serbs could sing about the genocide they suffered at the hands of the Ustase in World War Two, as well as the illegal NATO bombardment of Yugoslavia in 1999. The Hungarians could sing about the Ottoman occupation of their country and the enslavement/deportation of three million Magyars. Russia could sing about the 5.7m Russian (as distinct from Soviet) soldiers killed in WW2 after the German invasion, not to mention the 210,000 killed in France's invasion of 1812. The Bosnians on the horrors of Srebrenica. The Brits on the way London, Coventry and other major cities were Blitzed by the Luftwaffe. Or the raping and pillaging of the Vikings. And the Irish could sing about the terrible things the English had done to them down the years.
And so on.
Is this really what the Eurovision Song Contest should be about? European history is full of bloodshed, full of atrocities - and even genocides. Few countries in Europe haven't had some terrible crimes committed against them at some point - and on top of that there's also the imperialist crimes of certain European countries to consider.
But it seems, for obvious geopolitical reasons, crimes committed against the people of Ukraine at the order of Joseph Stalin are the only ones we are meant to be focusing on - and singing about - today.
It's not the first time those with an anti-Russian agenda have tried to use the Eurovision Song Contest to further their campaign.
In 2009, Georgia, clearly still smarting at how the Georgian aggression against South Ossetia had backfired a year earlier, selected an entry entitled: 'We don't Wanna Put In'. The artists did not deny their song was a "protest against Russian policies". The song was banned by the European Broadcasting Union (EBU), and rightly so.
The rules of Eurovision state that "No lyrics, speeches, gestures of a political or similar nature shall be permitted during the Eurovision Song Contest." Ukraine's 2016 offering is highly likely to meet the same fate as Georgia's 2009 entry when the EBU meet to consider it on 14th March. Which begs the question: Why did the Ukrainians allow a song which breaks the rules to be entered in the first place?
There's method in Kiev's apparent madness.
If Jamala is allowed to sing the song she "just had to write", in contravention of the Eurovision rules, then it'll be championed by all Russia bashers on the continent. We'll all be under pressure to give the song 'Douze Points' to show our 'solidarity' with Ukraine.
If, as must surely happen, the song is banned, then Ukraine plays the victim and will get the sympathy vote. Prepare for a spate of articles in Russophobic neocon media claiming that 'free speech' is under threat in Europe because we can't hear '1944'. I'm sure we'll get at least one claiming that Putin exerted pressure on the EBU himself. Instead of #JeSuisCharlie, it'll be a case of #JeSuisJamala.
The West's 'free speech' crusaders are of course brazen hypocrites. They didn't say anything when Hungary got into trouble in last year's Eurovision - not for the lyrics of their song, which was called 'Wars for nothing' but because one of the captions in the song's video contained the words: '2014 Gaza two-thirds of the victims were civilians, including more than 500 children'.
Israel wasn't mentioned by name and the song clearly was about commemorating all the innocent victims of war. But that didn't stop the Israeli Ambassador to Hungary lodging a complaint to Hungary's broadcasting authority, with the result that the 'offending' words in the video were removed.
While Keith Walker, of Euronews, did pick up on the double standards, tweeting 'Israel who's PM marched in Paris defending free speech, protests' Hungary's Eurovision entry' there was a deafening silence from those who would be first off the blocks to slam Russia if they had been the ones protesting 'Wars for nothing'.
Already the sort of media outlets you'd expect, have been enthusiastically promoting Jamala and '1944'. Step forward Radio Free Europe/Radio Liberty (RFE/RL) "Now the Crimean Tatars are on occupied territory and it is very hard for them… I would not want to see history repeat itself," Jamala told the US Congress-funded station.
"RFE/RL is smart power. Your steadfast commitment to your mission and the work you do is an essential part of everything America stands for," said former US Secretary of State Hillary Clinton in 2009.
Remember, folks, Eurovision is not supposed to be about politics!
"The Ukrainian authorities are going to try to use the song… capitalizing on the tragedy of the Tartars to impose on European viewers a false picture of alleged harassment of the Tartars in the Russian Crimea," Crimea's deputy prime minister Russlan Balbek has said.
He's right to be offended.
The head of Ukraine's National Remembrance Museum has also done his best to stir things up. He said that should Jamala win the contest in Stockholm, next year's event would be held in Sevastopol.
Now there's just one small problem with that. Sevastopol is no longer part of Ukraine. It's part of Russia. The city council of Sevastopol has declared that the only way it could host Eurovision 2017 is if Russia wins this year.
Does Ukraine really want us to go to war over where the Eurovision Song Contest is held?
To debase an international song contest in the way that Ukraine has done is disgraceful. By focusing on crimes which occurred in the 1940s, Jamala is also helping to divert international attention away from the economic plight of Ukraine today. A country that was once the food basket of eastern Europe is now, thanks to the illegal US/EU sponsored coup of 2014, a veritable basket case. It's hard to get one's head round the figures.
Ukraine's foreign trade has slumped 31 percent in just one year.
Inflation last February was estimated to be running at 64.5 percent a month.
Ukraine's GDP meanwhile fell for six successive quarters following the 'democratic revolution' of February 2014, while real wages fell by almost 25 percent in the year May 2014-May 2015.
The people in Maidan were supposed to protesting against corruption, but Ukraine - surprise, surprise, remains the most corrupt nation in Europe.
In fact, looking at how wretched everyday life is for ordinary people in 'liberated' Ukraine today, one can fully understand why Jamala is so keen to take us back to 1944. If she was really brave, she'd have penned a song called '2014' that discussed the 'regime change' activities of Victoria Nuland and their consequences.
'She handed us cookies out in the square, and when we next looked at our wage packets, there was nothing there'…
You can follow Neil Clark on Twitter @neilclark66
The statements, views and opinions expressed in this column are solely those of the author and do not necessarily represent those of RT.
You can share this story on social media: