Glock-armed Israeli robot joins ranks of mechanized killers (VIDEO)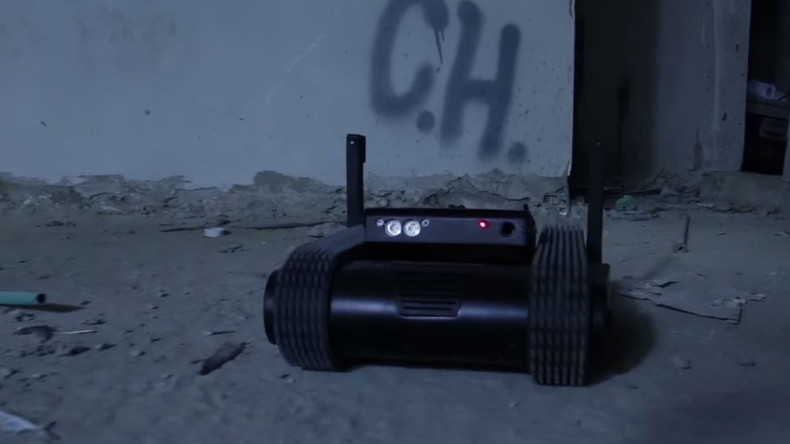 Yet another robot armed with a handgun was presented last week by an Israeli robotics company. A portable remotely operated crawler with a 9mm Glock 26 pistol mounted inside is a crack shot. It can also scout and climb stairs.
"Criminal was killed by robot" might soon become a standard police report. Just as an anonymous "police sniper," this robot gives the operator a chance to remain anonymous while pressing the red button to relay a kill command.
The DOGO crawling traction tactical combat robot unveiled by Israeli General Robotics Ltd. was developed with counterterrorism in mind. The machine, operated remotely from a Panasonic touchpad, boasts 360-degree vision and audio intercom for conducting negotiations. It can be armed with non-lethal weapons, such as pepper spray and flashlight blinders, but it can also serve as an unemotional and lethal terminator.
The robot has special extendable "antennas" that help the compact machine climb stairs quickly. While inactive, the robot can be carried in a backpack.
DOGO's 12 kilograms is enough to withstand the recoil of a 9mm Glock 26 hidden in its belly. The robot can deliver rapid and accurate fire at a target. The gun's 14-round magazine is loaded once and can be reloaded by the operator once the mission is over.
"No robot out there on the market is organically designed to engage the target," Defense News cited Shahar Gal, General Robotics vice president for business development and son of the company's founder, retired Israeli Colonel Udi Gal.
READ MORE: Connecticut to review 'weaponized drones' after teen's flame-throwing, gun-toting UAVs (VIDEOS)
It takes DOGO mere seconds to be ready to fire after receiving a command to prepare its gun. Six of the robot's micro-cameras ensure all-around vision while two boresight cameras are used for aiming the weapon.
DOGO's battery life enables the robot to remain online and active for about four hours.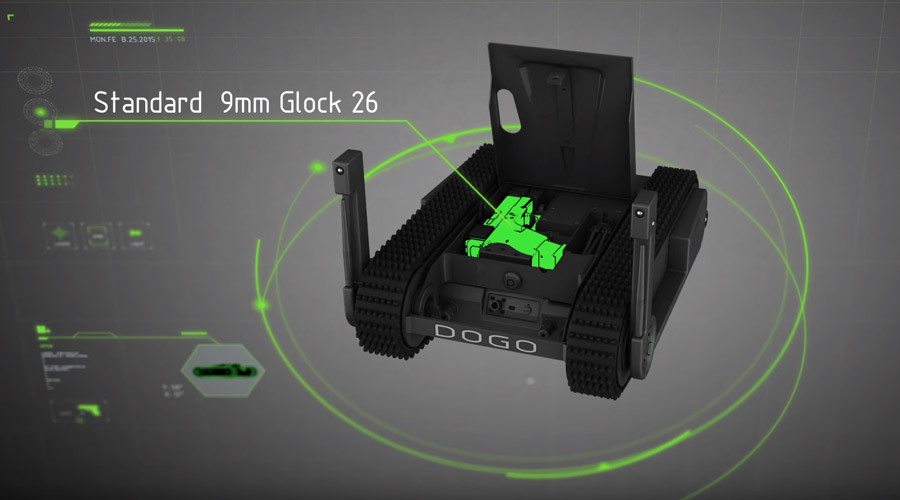 The company's founder and chief executive Udi Gal, a former deputy director of the Israeli Defense Ministry's research and development directorate, says the emphasis was on safety when DODO was designed.
"Our slogan is risk the Dogo, not personnel," he said.
The idea to arm a robot with a gun is not new, but military units already deployed in various armies are usually armed with machineguns, grenade launchers and antitank rocket systems.
In 2015, a homemade multi-rotor drone with a semiautomatic 9mm handgun mounted on it, built by 18-year-old Austin Haughwout of Clinton, Connecticut, created quite a stir in the US. It flew quite steadily and could fire its weapon accurately.
A "flying gun" drone capable of hovering in the air and shooting a mounted handgun spurred federal investigators into action, with the Federal Aviation Administration as well as the Bureau of Alcohol, Tobacco, Firearms and Explosives involved.
READ MORE: Handgun-firing drone prompts legal concerns, FAA investigation
The idea to strap a flamethrower to a UAV inspired Connecticut authorities to consider making weaponized drones a crime in the state.