Connecticut to review 'weaponized drones' after teen's flame-throwing, gun-toting UAVs (VIDEOS)
Published time: 28 Feb, 2016 22:50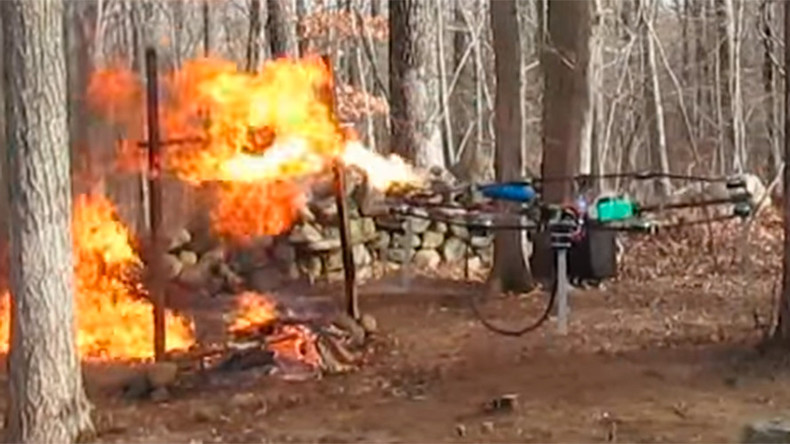 Strapping a flamethrower to a drone could soon be illegal in the state of Connecticut, with authorities reviewing an oversight that allowed a teenager to legally turn a quadcopter into an armed unmanned aircraft.
The state's general assembly is due to meet on Tuesday to discuss whether it is necessary to make weaponizing drone technology a crime in Connecticut.
Under a newly proposed drone bill, operating an armed drone would be a Class C felony that could slap violators with a prison sentence of up to ten years or a $10,000 fine.
The public safety act also proposes limiting the use of the devices to law enforcement activities, and outlines penalties for voyeurs invading privacy and misusing the machines for "sexual desire."
The bill has to be passed by both the state Senate and House of Representatives to be enacted. Almost a year ago, a similar bill on drone weaponry failed to be picked up by the House of Representatives.
This new legislation comes almost seven months after a video emerged of a Central Connecticut State University student flying a drone mounted with a loaded semi-automatic handgun.
Filmed by teen Austin Haughwout, the video demonstrated that a quadcopter could easily be adapted to carry and shoot a pistol. No one was injured or killed in the incident, which took place on private land. Local police investigated the incident, but were unable to take further action, as no law had been broken.
"It appears to be a case of technology surpassing current legislation," a Connecticut police spokesperson told CNN after the footage went viral.
A second video taken by engineering student Haughwout, entitled "Roasting the Holiday Turkey," showed a hair-raising flamethrower-drone spewing out fire as it hovered over a wooded area.
That video appears to have spurred authorities to enact legislation more explicitly banning certain drone adaptations or uses. "Clearly what happened in Connecticut renewed our interest," state representative Christie Carpino explained to the AP.
The Federal Aviation Authority (FAA) has recently issued a revised set of proposed provisions to restrict the use of small drones, though they do not specify any limitations on weaponizing them. Under current FAA rules, drones used by individuals and hobbyists must weigh less than 55 pounds (25 kilograms), and be registered if they fall between 0.55 and 55 pounds.