Gunslinger drone, your moderately-priced hired assassin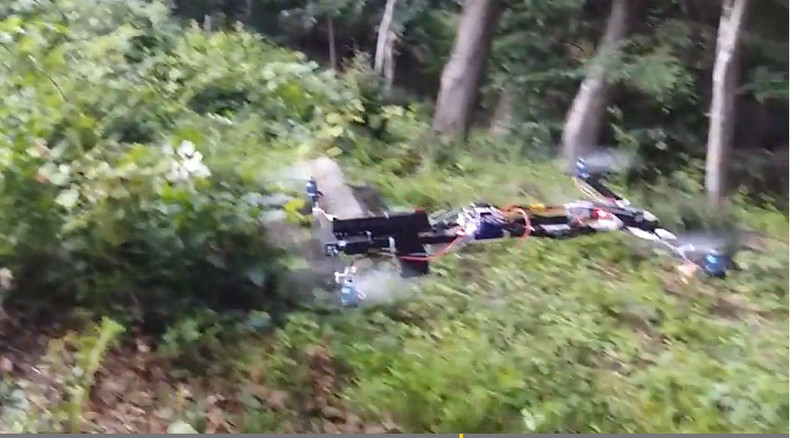 YouTube firearms enthusiast 'Hogwit' has built a homemade multirotor with a semiautomatic handgun mounted on it. What's really scary is, it shoots! It can probably hit a target the operator choses, which opens great "opportunities."
The drone is not very big, its frame a mere 65cm long, yet this quadrotor carries what looks like a 9mm handgun that approaches a target, takes aim and shoots.
More impressive is that the drone absorbs the recoil smoothly and gets ready for the next shot with the speed of a practiced shooter, aiming carefully before taking a bull's-eye shot.
The drone appears to be stabilized pretty well and hover in one place practically motionlessly. There's little doubt that if the drone's camera is properly aligned with the gun's axis, the operator will not miss, particularly shooting at a distance of several meters.
A high-resolution camera, precision gyroscopes for aiming accuracy and a powerful accumulator for long-range activity all produce the ideal terminator: nameless, faceless and with no strings attached.
The four shots made on a video published by Hogwit might become four nails into the coffin of personal security. High barbed-wired fences, top floor penthouses with personal elevators, private islands with around-the-clock sea patrols – these days the only truly secure location would be an underground bunker.
Sometimes contract murders are committed with a sniper rifle if the target's security is too tight and a killer is unable to get close to the victim at a distance of a clear shot.
But a flying drone can get to practically anywhere, or at least very close to a desired location, it is relatively small, made of plastic, can fly very low and is not that easy to spot.
Popular YouTube contributor 'FPSRussia' demonstrated a prototype quadrotor armed with a machine gun back in 2012, yet back then the drone was armed with a weapon specially-designed for the carrier, whereas the one presented by Hogwit could in theory be armed with any compatible semiautomatic pistol at will.