Handgun-firing drone prompts legal concerns, FAA investigation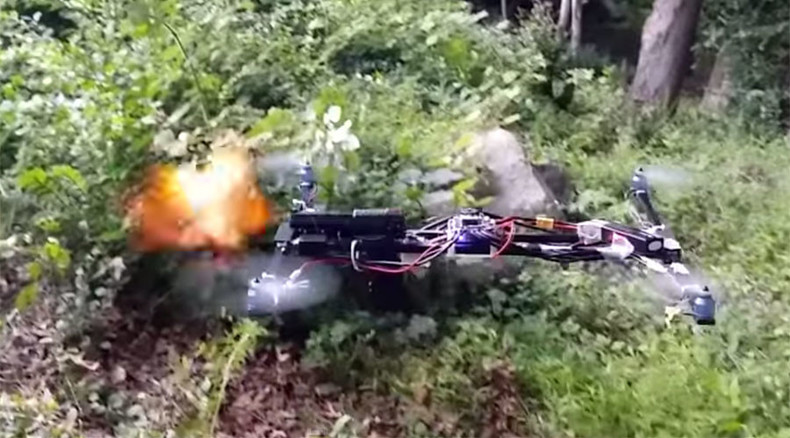 A "flying gun" drone capable of hovering in the air and shooting off four rounds of ammunition via a mounted handgun has done a lot more than garner YouTube views: It has spurred federal investigators into action.
The video of the four propeller drone, which was reportedly created by 18-year-old Austin Haughwout of Clinton, Connecticut, has now surpassed 2 million views on YouTube, but when local police picked up on the footage, they decided to investigate. Now they are being joined by officials at the Federal Aviation Administration as well as the Bureau of Alcohol, Tobacco, Firearms and Explosives.
According to the Associated Press, federal officials will "work with its law enforcement partners to determine if there were any violations of criminal statutes."
The FAA bans the careless or reckless use of model aircraft, but they told AP that so far it doesn't look like any laws were broken. Police told CNN the drone was fired on private property, at Haughwout's home.
"We are attempting to determine if any laws have been violated at this point. It would seem to the average person, there should be something prohibiting a person from attaching a weapon to a drone. At this point, we can't find anything that's been violated," Clinton Police Chief Todd Lawrie said to CNN.
Speaking with local WFSB News, Haughwout's father, who went unnamed, said his son created the drone and did enough research to know that he wasn't breaking any laws. It was built with the help of of a professor at Central Connecticut State University, the father added.
Meanwhile, Haughwout himself told ABC News that in addition to creating this gunslinger drone, he's also developed an "electric Razor scooter that I modified to exceed 70 mph and maintenance of a 1976 electric car."
Still, former Assistant Director of the FBI Thomas Fuentes told CNN an arms-bearing drone could be dangerous.
READ MORE: Gunslinger drone, your moderately-priced hired assassin
"What if the drone gets beyond the distance of the radio control?" he asked.
"Do we want drones out of control that could land who knows here? We could have a child pick up the drone, pick up the gun, and accidentally kill themselves. I see the whole thing as reckless conduct."
Meanwhile, attorney Peter Sachs told ABC that the FAA should be looking into the situation.
"There are countless ways that drones can be useful. Using one as a remote-controlled weapon is not one of them, and I question the judgment of anyone who would attempt to do so," he said.