Ukraine list of journalists' personal data exposes them to ISIS – broadcasting association chief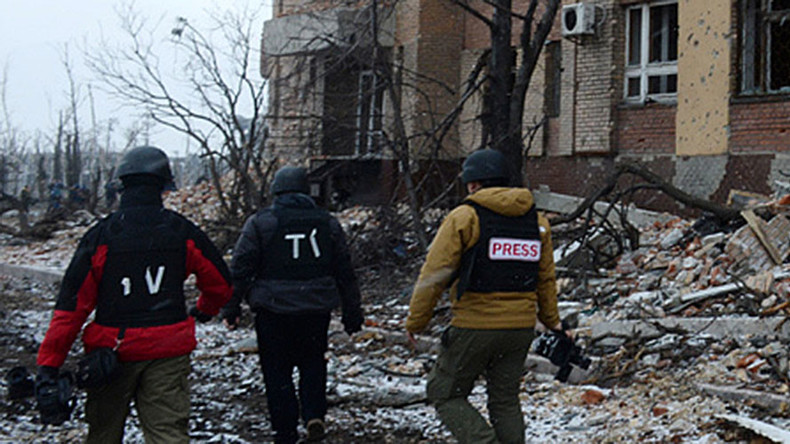 The Ukrainian website that leaked personal details of journalists, who reported from rebel-held parts of Ukraine, has exposed them to retaliation from the likes of Islamic State, says the head of the Association for International Broadcasting.
The AIB is among numerous organizations worldwide, which condemned the leak and the way it was promoted by Anton Gerashchenko, a Ukrainian MP and aide to the interior minister. The harm that the exposure can potentially cause extends far beyond Ukraine, AIB Chief Executive Simon Spanswick told RT.
Read more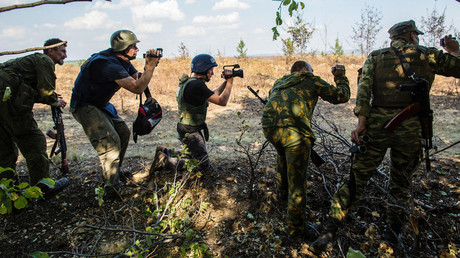 RT: The publication caused panic among major news agencies. What's your reaction to it?
Simon Spanswick: The AIB, the organization that I run and which RT and many other international broadcasters from the BBC to CNN are members of, are shocked and surprised by this release. It's not something that we saw coming. To see the extent of the data that's included on the list – all these 4,000+ people – is quite astonishing for all the wrong reasons.
RT:A criminal case has already been launched by Ukraine over this leak. Do you expect any results to actually come from it? Will those covering the situation in Ukraine be protected?
SS: It's up to the organizations they work for to take steps to make sure that journalists work as safely as possible. I know that certainly some of our members have taken steps since they got this information in the last day or so, to ensure that security is stepped up and that journalists are aware of the potential threat.
The problem is not limited just to Ukraine. Other organizations could take this information and start targeting journalists working in other parts of the world. Clearly the main correspondents for RT, for the BBC, for CNN – they go from conflict zone to conflict zone. I suspect that at the moment [Islamic State, IS, formerly ISIS/ISIL] is a big threat to them. If IS gets hold of this list and starts using it to target journalists the whole thing can escalate. That's what I think the biggest concern is at the time.
READ MORE: Personal details of murdered journalist & ex-MP found posted on Ukrainian 'enemies of state' database
RT: In terms of the international organizations protecting journalists and their workers, what can they do to ensure the safety of their colleagues?
SS: Certainly there are steps being taken within all the major broadcasters to double-check, for example, security of email accounts. Because email accounts could be hacked from some of the data that has been published. I know that organizations are taking that very seriously. Indeed, we had our first meeting of the AIB cybersecurity working group this week, where the protection of people's email systems was one of the topics discussed. It's a hot topic because everything is linked on the internet these days. So the opportunity for people to try and hack in using very tenuous and fairly low-level data is quite possible. There are clever people there doing this all the time.
RT: The investigation that has been launched, of course, will take time… But given that some journalists on the list have already received threats, do you think that some sort of a preemptive action needs to be taken sooner to protect the safety of these journalists in the country.
SS: The first thing that needs to happen is this list needs to be taken down. The authorities wherever this website is based – whether it's in Ukraine or somewhere else – need to take active steps to get that data removed and expunged from the internet. That's the first step so that more people don't access it. Then I think criminal cases are the way forward. We've already seen that starting to happen. It's going to take time, but we hope that the perpetrators are brought to justice. They shouldn't have done this. To target journalists who are trying to report fairly and freely across all sides of a conflict – to target them is completely wrong. It's against all the standards that we as journalists all uphold.
READ MORE: Top Ukraine official backs idea 'to help ISIS take revenge on Russian soldiers in Syria'

RT: The list is truly massive. But we know that that the list is actually run by [Anton Geraschenko] a member of the Ukrainian parliament, who is also an adviser to the Interior Minster. So could there be some conflict of interest in the investigation. Are you certain that the investigation will be impartial and will protect the identities of those journalists.
SS: This MP should never have promoted access to this list. What he did was disingenuous and very bad. I think steps need to be taken – from what I understand measures are being talked about in the Ukrainian parliament – to try and quiet him down, if you like, in the first instance. A politician of any color should not be promoting acts of violence or any acts against journalists, who are there to report stories and tell the truth.