Turkish ground op in Syria unlikely due to presence of Russian air force – Lavrov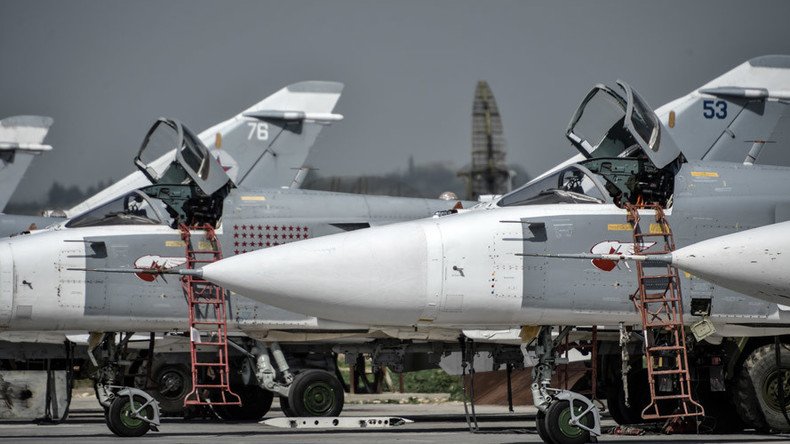 A foreign military is unlikely to launch a ground operation in Syria due to the Russian Airspace Forces there, Russian Foreign Minister Sergey Lavrov said in commenting on the readiness Turkey has expressed to send troops to Syria "if necessary."
"I do not think that anyone will decide to play dangerous games and carry out any provocations due to the fact that there are Russian Aerospace Forces stationed [in Syria]," Lavrov said when asked about the possibility of a Turkish or Saudi Arabian incursion.
The Foreign Minister stressed that "it's necessary to educate, those who are trying to advocate" a military invasion because it "would be a direct aggression," according to Sputnik.
"But I don't think that they have any justification, at least some excuse [for a military invasion], because the ceasefire [in Syria] is strengthening after all," he added.
Earlier on Wednesday, Turkish Prime Minister Ahmet Davutoglu told Al-Jazeera that Ankara is ready to send ground troops to Syria "if it becomes necessary… to provide for our own security."
Lavrov said that a third party had tried to manipulate the US into shielding terrorists from the Al-Nusra Front group in Syria.
"During the negotiations, our US partners actually tried to draw the borders of this 'zone of silence' to include a significant portion of positions occupied by Al-Nusra [Front]. We managed to exclude this as absolutely unacceptable," he said.
"This indicates that someone wants to use the Americans. I do not believe that it is in their interest to shield Al-Nusra [Front]," the FM stressed.
READ MORE: 2 police officers killed as suspected ISIS car bomb strikes police HQ in Gaziantep, Turkey
Lavrov pointed to evidence linking the Turkish government with Islamic State (IS, formerly ISIS/ISIL) and Al-Nusra Front, which were excluded from the Syrian ceasefire deal brokered by Russia and the US in February.
Turkey is believed to be trading oil and artifacts with the jihadists, allowing them to cross the border freely and supplying them with arms.
Ankara has been pushing for the removal of Syrian President Bashar Assad since the beginning of the conflict in Syria, which it views among its prime geopolitical rivals. According to Lavrov, the nature of Ankara's relations with Washington is different from Moscow's cooperation with Assad's government in Syria.
"Assad is not our ally, by the way. Yes, we support him in the fight against terrorism and preserving the state of Syria. But he is not an ally in the sense that Turkey is the ally of the United States," Lavrov told Sputnik.
The Russian FM blamed Ankara for pressuring the EU to accept the idea of "safe zones" to host refugees on the Turkish-Syrian border, despite the idea being rejected by the US.
"They are still talking about safety zones. Unfortunately, the European Union is also starting to take the concept of security zones as a given under blackmail from Turkey," he said.
"At least, when [US President Barack] Obama was in Hannover, [German Chancellor Angela] Merkel said at a press conference that 'we support the idea of security zones,' which Obama immediately publicly disowned, but it sounded symptomatic," the FM said.
The minister also returned to the topic of Russia's Su-24 jet that was downed on an anti-terrorist mission in Syria by the Turkish Air Force in November of last year.
READ MORE: RT documentary exposes dirty oil secrets, ISIS ties with Turkey
"Our assessment is absolutely clear: the Turkish leadership has committed a crime and an error," he said in describing the tragedy that President Putin has called "a stab in the back" and led to Moscow imposing a series of sanctions on Ankara.
Lavrov was confident that similar incidents were "no longer possible because all measures have been taken to avoid any accidents, and the Turks are aware of this."
'Ankara shows imperialistic behavior'
Moscow has noticed "neo-Ottoman" tendencies in Turkey's international stances, and not just when it comes to the situation in Syria, Lavrov said, referring to the country's historical predecessor, the Ottoman Empire.
Turkey is behind all of the talk about "safe zones" and a "Plan B" for Syria, which reveals its "expansionist aspirations," Lavrov noted, adding that Ankara still maintains a military presence in Iraq despite the express wishes of the Iraqi government, which never authorized Turkish forces to enter and has repeatedly demanded that they leave.
Turkey appears motivated to "extend its influence and expand its territory," he explained. As an example, Lavrov noted that Turkey had violated Greek airspace 1,800 times last year, while NATO remained tight-lipped.
"This kind of explicitly expansionist behavior, can't lead to anything good," the Russian FM stressed.
You can share this story on social media: