US, Russia agree to include Aleppo in Syrian ceasefire deal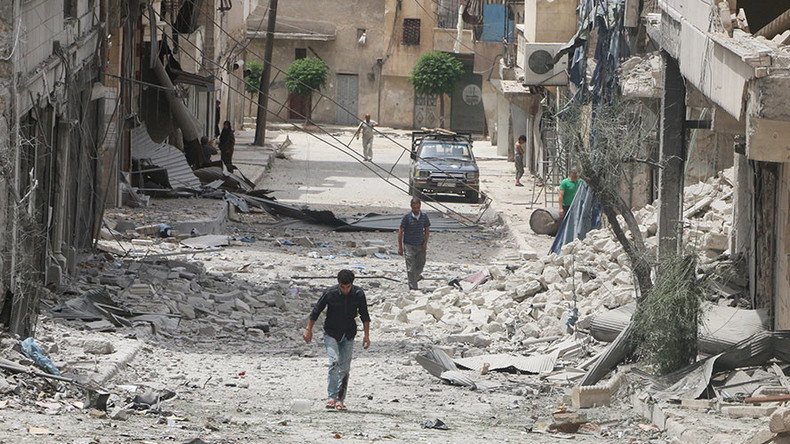 Moscow and Washington have agreed that the ceasefire in Syria should include the city of Aleppo, which has recently been the scene of the county's heaviest fighting.
Russian Defense Ministry spokesman Igor Konashenkov confirmed that the temporary ceasefire in Aleppo will be extended for 48 hours, to end at 12:00 am on Friday. A similar regime will be in effect in the north of Latakia province and the Eastern Ghouta region near Damascus until 12:00 am on May 5.
Konashenkov stressed that the new truce was proposed by Moscow and backed by Washington in a phone conversation.
"During a phone conversation between the heads of the Russian Centre for Reconciliation of opposing sides and the US center in Amman, Jordan, the American side backed Russia's proposal on the renewal of a "regime of silence" in Eastern Ghouta and northern Latakia for 24 hours (until 12:00 am on May 5) and the prolongation of "the regime of silence" in the city of Aleppo for 48 hours (until 12 am on May 6)," Konashenkov said, as cited by Interfax.
Earlier on Wednesday, Konashenkov said the previous ceasefire in Aleppo on May 3 had been disrupted by Al-Nusra Front militants.
The truce came into force in Aleppo at 12:01 am on Wednesday, the US State Department spokesperson Mark Toner said in a statement on Wednesday.
"We have seen an overall decrease in violence in these areas, even though there have been reports of continued fighting in some locations," he said.
"Our objective remains, and has always been, a single nationwide cessation of hostilities covering all of Syria – not a series of local truces," Toner added.
According to the Syrian military, a 48-hour "regime of silence" is set for Aleppo starting Thursday.
The United Nations "have taken notice" of the Aleppo ceasefire announcement, UN Under-Secretary-General for Political Affairs Jeffrey Feltman said during a Security Council meeting.
Feltman once again urged all sides involved in the conflict to begin observing the truce immediately.
Russia's UN envoy, Vitaly Churkin, said that over 90 percent of Syrian towns and villages have supported the ceasefire since the inclusion of Aleppo.
The ceasefire in Syria doesn't apply to terrorist organizations, including Islamic State (IS, formerly ISIS/ISIL) and Al-Nusra Front.
The French and German foreign ministers praised the ceasefire in Aleppo, saying it would be critical to renewing peace talks on ending Syria's civil war.
"I believe everyone knows and can conclude that there could be no return to the political talks in Geneva if a ceasefire in and around Aleppo is not observed," German Foreign Minister Frank-Walter Steinmeier said on Wednesday prior to the official announcement of the agreement.
The larger part of Aleppo province is now under the control of the Syrian army, but the situation in the area is complicated, Defense Ministry spokesman Major-General Igor Konashenkov said.
"Aleppo resembles a kind of a layered cake, with the largest part controlled by government forces, part of the area held by Nusra Front militants, while another part is controlled by the so-called opposition," he explained.
According to the spokesman, Russia has notified the US side of a number of documented occasions when opposition groups were either forced to fight for Nusra Front or joined the jihadists voluntarily.
Nusra Front is using every opportunity and all means possible to derail the peace process in Syria, he said.
The "regime of silence" is intended to prevent the warring sides from engaging in an endless cycle of retaliating for shellings and other provocations, Konashenkov explained.
Earlier, Russian Foreign Minister Sergey Lavrov said that the Russian and US militaries discussed the Aleppo ceasefire late on Tuesday.
According to UN special envoy Staffan de Mistura, the stalled intra-Syrian peace talks between the government and opposition could be resumed if a ceasefire for Aleppo is agreed upon.
In an earlier exclusive interview with RT, de Mistura stressed that "there is no military solution to this conflict" in Syria.
"There's been an attempt for five years to have victory and a defeat. There is no victory or defeat on this. There is only a political solution, which means a negotiation. But negotiation needs to have a ceasefire," the envoy said.
The Geneva peace talks became gridlocked in April after the Saudi-backed Syrian opposition withdrew from the negotiations, citing the deteriorating situation in Aleppo.
Aleppo, one of Syria's largest cities, remains a hotspot in the Syrian conflict, with various parts of the city held by different groups.
Ongoing hostilities in Aleppo prevented it from being included in the "regime of silence" that was announced by Russia and the US for parts of Latakia and Damascus last week.
On Tuesday, a hospital in the city was attacked by a rocket, killing at least three people and injuring more than a dozen, state-run Sana news agency said, adding that women and children were among the casualties. The facility is in an area under the control of government forces, and was targeted by a radical rebel group, according to Sana.
You can share this story on social media: