Russian, US military work out joint approach to uphold Syria truce – Khmeimim center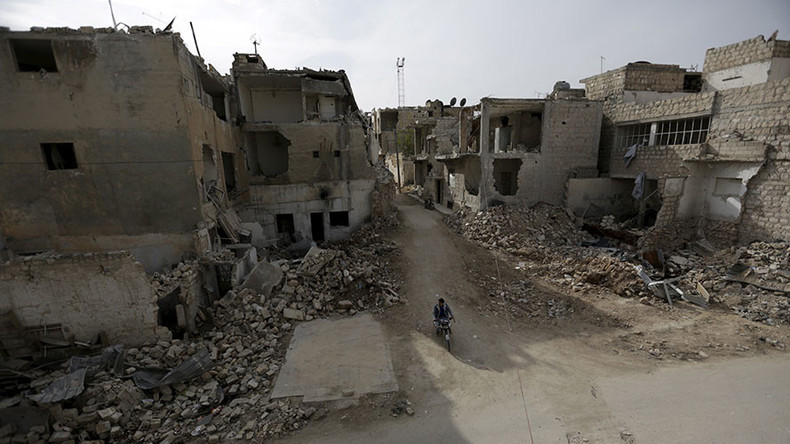 Russian and US military have managed to find an "effective mechanism" to maintain the cessation of hostilities in Syria, the head of the Russian Center for Reconciliation at Khmeimim airbase said, adding that the level of violence in the country has dropped significantly since February.
"The American side is working with opposition groups and has been able to convince them that the 'regime of silence' should be observed," Lieutenant General Sergey Kuralenko told journalists.
He stressed that no shelling has been recorded in the area of the eastern Ghouta, Rif Dimashqin province in southwestern Syria, the recent days. "These tasks are fulfilled by both American side and [Syrian] government forces," he added.
READ MORE: Cessation of hostilities in Aleppo to be announced in coming hours - Lavrov
According to Kuralenko, the level of violence in Syria has considerably dropped since the end of February, when the Russia-US brokered ceasefire kicked off and secured support from various armed opposition groups. Terrorist groups such as Islamic State and Al-Nusra Front are not part of the agreement.
"Since the founding of the Center on February 27, the level of violence has dropped significantly. The numbers of shelling [incidents] from both sides has dropped eightfold," Kuralenko said.
According to the head of the Russian Center for Reconciliation, the situation in Syria is stabilizing, but however, tensions are being still observed in northern Latakia and Aleppo, as well as in several areas in the Damascus Province.
Aleppo, one of Syria's largest cities, remains a hotspot, with various parts of the city held by different groups.
READ MORE: 3 killed, 17 injured in rebel rocket attack on Aleppo hospital – state media (VIDEOS)
On Tuesday, a hospital in Aleppo was attacked by a rocket, killing at least three people and injuring more than a dozen, Sana news said, adding that women and children were among the casualties. The facility was under the control of government forces, and was targeted by a radical rebel group.
Following the attack, the UN Security Council adopted a resolution on the protection of civilians in armed conflicts following the deadly attack on an Aleppo hospital. The document demands protection of hospitals in war zones.
"Such attacks must end," UN Secretary-General Ban Ki-moon said prior to the vote.