2 police officers killed as suspected ISIS car bomb strikes police HQ in Gaziantep, Turkey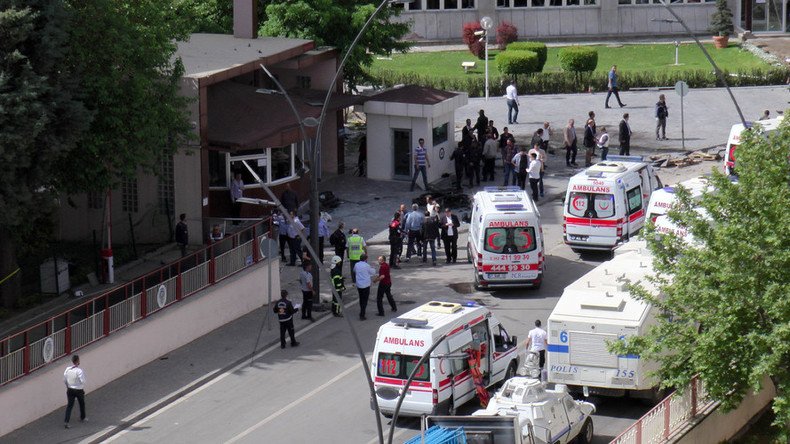 At least two police officer have been killed after a car bomb exploded near a police headquarters in the Turkish city of Gaziantep, according to the city's governor. At least 23 people have reportedly been injured in an attacked blamed on Islamic State.
Footage from the scene showed pieces of a wrecked vehicle near the gates of the station. Glass from windows in buildings in the vicinity were also shattered, while all roads in the area have been closed for security purposes.
Gaziantep Emniyet Müdürlüğü önünde bombalı saldırı
Vali: Patlamada 1 polis şehit , 9 u polis 13 kişi yaralandıhttps://t.co/LaYFhTraDm …

— Atilla GÖNÜLLÜ (@atillagonullu) May 1, 2016
The governor of Gaziantep Ali Yerlikaya said that two law enforcement officers had been killed in the bomb blast. He added that at least 19 police officers and four civilians had been injured.
A security source says that Islamic State (IS, formerly ISIS/ISIL) are suspected of being responsible for the car bomb. Police are searching for a militant, while his father was detained in a raid carried out by law enforcement officers.
A DNA test is expected to confirm whether the suspect carried out the attack, Reuters reports.
Police sources confirmed that an explosion rocked the police building and added the explosion was felt all over the city. There were also media reports of gunfire in the area after the bomb exploded.
It is understood that a car bomb detonated just outside the police headquarters, Cumhuriyet reports, while there were media reports of gunfire in the area after the bomb exploded.
The police station is close to a number of government office buildings including those of the governor and the mayor. The area is normally full of people, but was empty early on Sunday morning, according to AP. The International Labor Day demonstrations in the city were cancelled due to the potential security threat, the Dogan news agency reports.
Gaziantep is located in the south of Turkey near the border with Syria, which is controlled by Islamic State (IS, formerly ISIS/ISIL) forces. Since the emergence of the terror group in the summer of 2014, Gaziantep has been used as a stopping off point for numerous foreign jihadists looking to join up with IS in Syria.
In April, the Turkish authorities detained two alleged IS members in Gaziantep. It was believed the pair was planning suicide-bombing attacks in Gaziantep and other Turkish cities, according to the governor's office.
Meanwhile last month, Russia's UN envoy Vitaly Churkin said Gaziantep was being used as a major trade hub by Islamic State to sell objects of cultural heritage, stolen from Syria and Iraq.
According to the envoy, new smuggling hubs are popping up on the Turkish-Syrian border, with the "bulky goods" being delivered by the Turkish transport companies, which Churkin names.
"Smuggled artifacts (jewelry, coins, etc.) then arrive in the Turkish cities of Izmir, Mersin and Antalya, where representatives of international criminal groups produce fake documents on the origin of the antiquities."
You can share this story on social media: