Turkey demands Switzerland remove picture accusing Erdogan of killing boy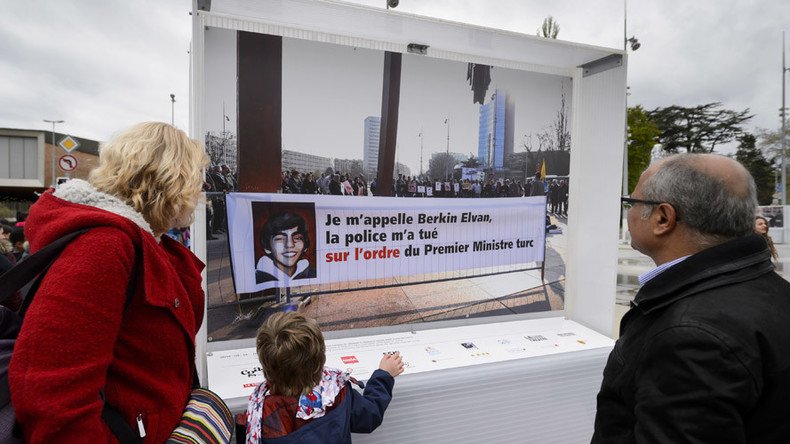 Ankara has demanded the removal of a photo from an exhibition that claims the then Turkish PM was directly involved in the murder of a child during anti-government protests in Turkey in 2013.
The exhibition by Demir Sönmez, a Swiss artist of Kurdish and Armenian origin, is currently on display at the Place des Nations in front of the United Nations Office. The aim of the exhibition is to highlight "the multiple struggles of the people," Sönmez told AFP.
The picture that offended the Turkish authorities features Berkin Elvan, a boy who was fatally injured during mass demonstrations against then Prime Minister Recep Tayyip Erdogan at Istanbul's Gezi Park in June 2013.
"My name is Berkin Elvan. The police killed me, on the order of Turkey's prime minister," says a caption under the photo of Elvan. Erdogan served as Turkey's prime minister between 2003 and 2014.
READ MORE: Turkish police teargas rally honoring 15yo killed in anti-govt Gezi protests (VIDEO)
Turkish representatives have asked for the picture to be taken down, a spokesman for the canton of Geneva, Philippe d'Espine, told AFP. He added that a decision would be taken during a meeting of the municipal government on Tuesday.
On June 16, 2013, Berkin Elvan left home to buy some bread for his family, but on the way he was hit in the head with a tear gas canister shot by police during clashes with protesters.
The boy, 15, died in hospital after spending 269 days in a coma. Elvan's mother Gulsum Elvan blamed the death of her son on Erdogan, who in June 2013 praised the "legendary heroism" of police forces in quelling anti-government protests.
The boy's death fueled a wave of demonstrations in Turkey, many of them resulting in violent confrontations between protesters and law enforcement. Similar protests were also held in London, New York, Berlin, Amsterdam and Barcelona.
READ MORE: Turkish police disperse rallies honoring teen slain in Gezi protests
Turkey is currently launching a crackdown on the media both at home and abroad.
READ MORE: Turkey bars entry to foreign journalists, gives no explanation
Germany has opened an investigation into TV comedian Jan Boehmermann's verse criticizing the Turkish president after Erdogan filed a personal lawsuit against the man. Ankara had complained the poem was insulting.
The Turkish embassy in the Dutch city of Rotterdam has urged Turks to report any 'insults' against their president. Also, a number of European journalists have been denied entry to Turkey.
Erdogan's crusade against dissenting media is in full swing at home as well.
In March, the Zaman newspaper's employees said they felt "like captives" following the government's takeover of the daily. Since the paper's seizure, it has turned into a government mouthpiece, with the first edition under the new ownership immediately featuring a picture of Erdogan.
READ MORE: Dutch journalist held in Turkey over Erdogan tweets says her Amsterdam flat was burgled
Two journalists from Turkey's Cumhuriyet newspaper are being charged with espionage after publishing a report in 2014, which purported to show Turkey's state intelligence agency helping to transfer weapons to Syria by truck. Both spent 92 days in jail, almost half of that time in solitary confinement, before the Constitutional Court ruled in February that their pre-trial detention was a violation of their rights.
You can share this story on social media: